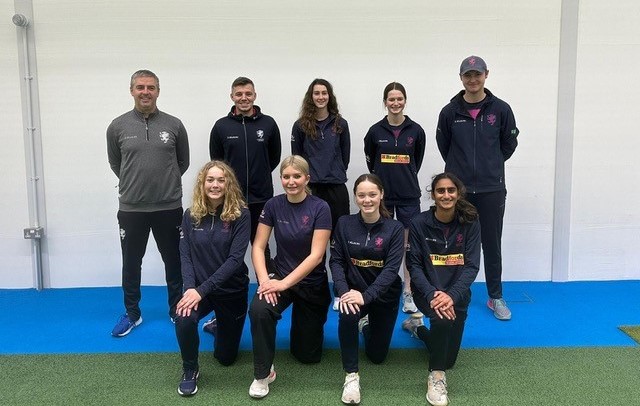 It's an exciting time to be involved in the women's game. A professional career in cricket is now a reality for girls across the region. Kieran Peters is a SCCC Pathway Coach and Women's and Girls Lead.
Here he brings us up to speed with the game in the region.
"This is the first time that Somerset have had in place a role that is full time and dedicated solely to delivering on the women's and girls side of the game.
"This side is growing so much, and we have got a large number of young cricketers coming through who are getting the opportunity. There is now a clear pathway in place for them to go on and make a career out of it.
"Now we have a clear programme in place, it will enable us to develop Somerset Cricketers to go on and represent Western Storm at EPP and Academy level and hopefully follow in the footsteps of Anya Shrubsole and Sophie Luff and play professionally.
"In the girls pathway there are four age groups: Under 11s and Under 13s, and then Under 15s and 18s which are both slightly narrower because these are the two main county age group teams.
"Across the course of the winter the Under 11s and 13s will get 29 hours of contact time and then the Under 15 and 18s get 31 hours.
"To enable us to deliver these programmes across the winter we have got a really good team of coaches who come and help us.
"We also have the Somerset EPP which sits just above what we deliver here at Somerset for the Pathway but just under what Western Storm deliver on their Academy.
"Currently we have got eight girls on our EPP and every one of them has an individual programme that they are following.
"Dave Roberts, who played professionally for Northamptonshire and Cornwall is the Lead Coach with the Somerset Women's team and I assist him with his duties
"One of the Somerset girls, Niamh Holland, was selected to go with the England Under 19s to the World Cup which was an unbelievable experience for her. She has represented the Somerset Girls Pathway the whole way through and always been someone who has stood out and has gone on to play for Somerset Women and Western Storm. The thing about Niamh is that she is very hard working and deserves the opportunity she has been given.
"We are very lucky in that we have a very good relationship with the Western Storm coaches and there are strong communication channels, all of which are helping us to make sure that, for those who go further with their game, the progress is a seamless experience.
"This is a really exciting time to be involved with the women and girls game because it is growing so much and there is a huge amount of interest in it, which we need to build upon. We have got a lot of good young cricketers coming through who are getting the opportunity to make a career out of it."