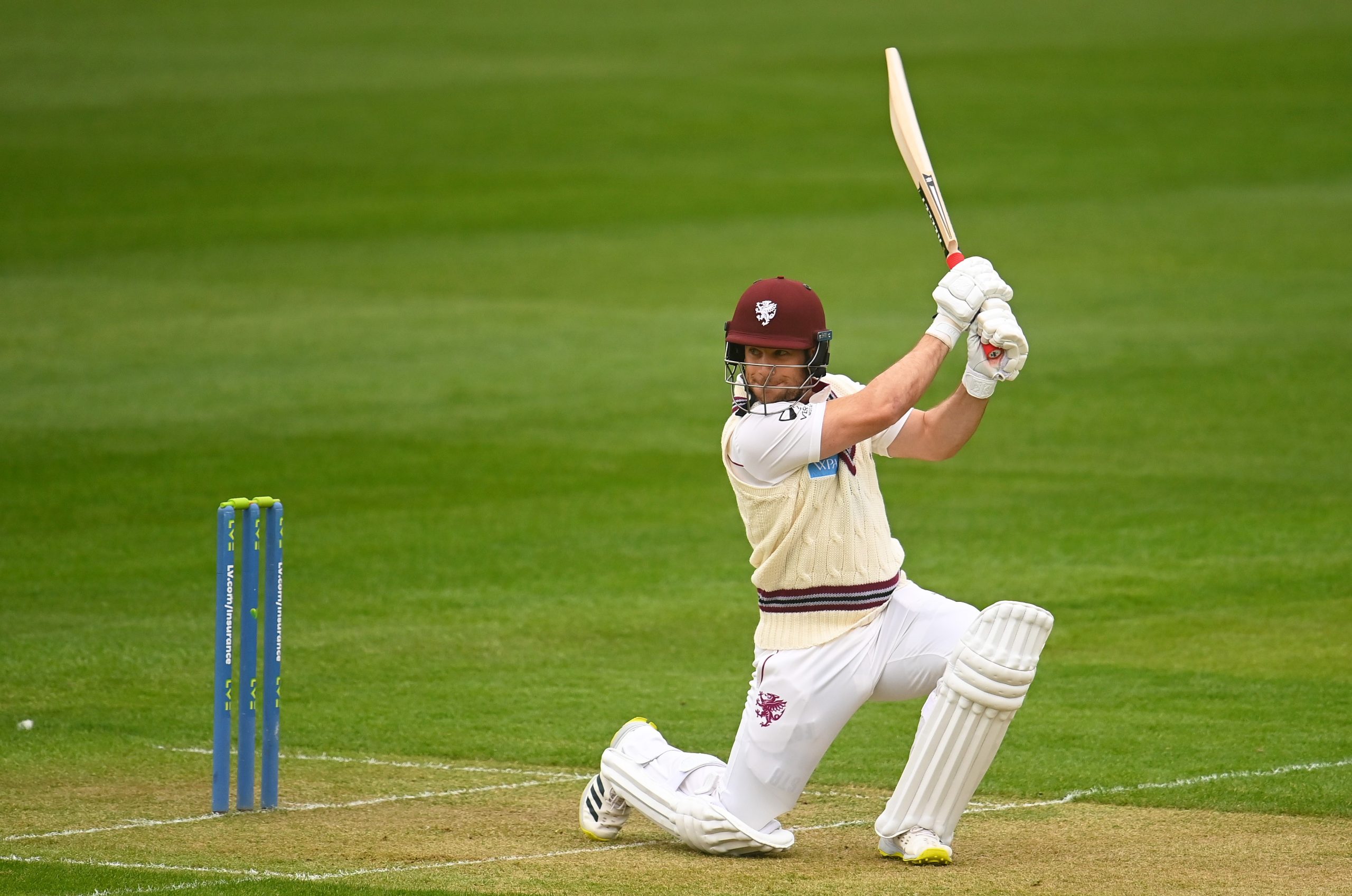 DAY THREE
14:20 – Unfortunately, the rain is falling again and the umpires have called a permanent halt to proceedings. Thank you for your company over the last few days. See you back here next week when we take on Glamorgan.
14:15 – I may have been a little hasty. There are rain drops on the media centre window…
14:00 – I don't want to get your hopes up, but the players are out there warming up!
13:20 – UPDATE: Following the 1pm inspection, umpires Burns and Blackwell have stated that there will be a further inspection at 2pm. If there is no further rain, we could possibly get underway at 2:30pm.
11:00 – UPDATE: The umpires have announced that there will be no play this morning. Lunch will be taken at 12:30pm, and a further inspection will take place at 1pm.
09:59 – It's wet. Unfortunately nothing much else to report at the moment.
DAY TWO
13:25 – UPDATE: Unfortunately, the rain is falling heavily again and the umpires have announced that no play will be possible today. We will try again tomorrow. Thank you for your patience.
09:25 – UPDATE: The umpires have announced that there will be no play before lunch, which will be taken at 12:30pm. The umpires will then undertake a further inspection at 1pm.
DAY ONE
Heavy overnight rain meant that play between Somerset and Cardiff UCCE was unable to get underway as scheduled at the Cooper Associates County Ground this morning. However, when it did, Somerset Members and supporters got more than a glimpse of what Sean Dickson will bring to the side this summer.
The downpours had left standing water on sections of the outfield, but the Somerset Ground Staff did a tremendous job in making play possible. They worked tirelessly all morning, and a 12pm inspection prompted an early lunch with the promise of a further inspection at 1pm. With the Ground Staff still working hard, news filtered through of a 2pm start.
Somerset skipper, Lewis Gregory won the toss and elected to bat.
Tom Lammonby and Dickson walked out to the middle under growing cloud as the action finally got underway. However, it was the visitors who had the better of the opening overs.
Somerset had moved to 12 without loss when Tom Lammonby looked to drive the first ball of the fifth over from Tommy Rex but edged to Ben Kellaway. Andy Umeed was the next batter and he made a run-a-ball 12 before driving VV Raghavan to Kellaway at point with the score now 32 for two. That soon became 37 for three when Lewis Goldsworthy was bowled by Raghavan for four.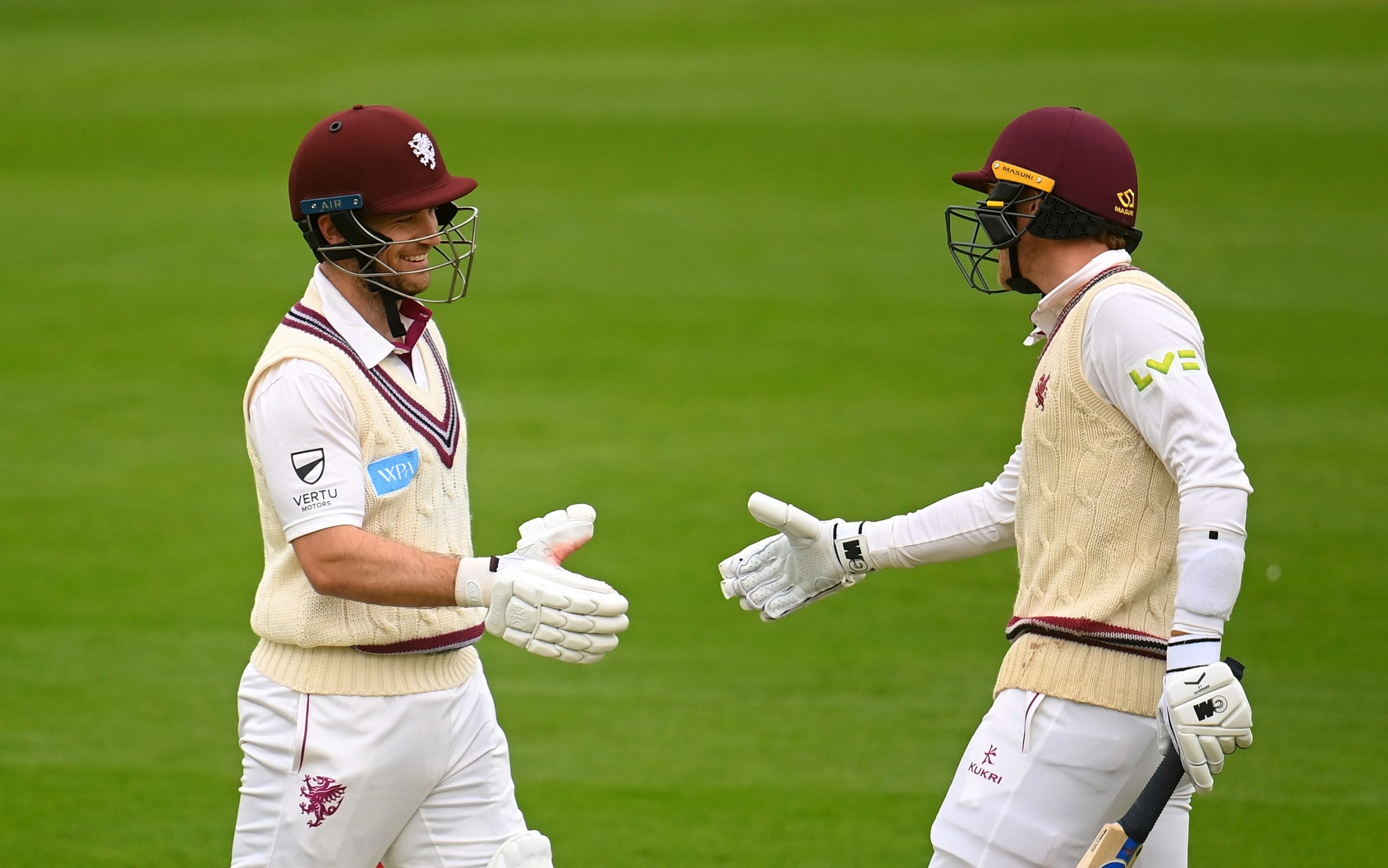 Somerset required some solidity and that was provided impressively by Dickson and George Bartlett. The pair took Somerset to 50 in the 11th over, with Dickson the more aggressive of the pair. He looked in fine form and opened up an array of shots to delight those who had braved the weather and the delay.
Somerset's new signing reached his half century from exactly 50 balls, and the 50 partnership came up from 56 balls.
Dickson continued to dispatch the Cardiff attack to all areas of the ground as Somerset reached three figures from the opening ball of the 20th over. By the time the tea interval arrived, the partnership was worth 92 with Somerset on 129 for three.
With further rain forecast, the Somerset declaration came during the break with Dickson unbeaten on 80 and George Bartlett on 28 not out.
With the skies darkening, the Cardiff UCCE openers walked out to the middle under the floodlights, but only five balls were possible before the heavens opened once again to curtail play for the final time today with Cardiff UCCE on seven without loss.
DAY ONE BLOG
16:33 – That's all folks! Unfortunately, no further play will be possible today. Thank you for joining us. We'll see you back here tomorrow!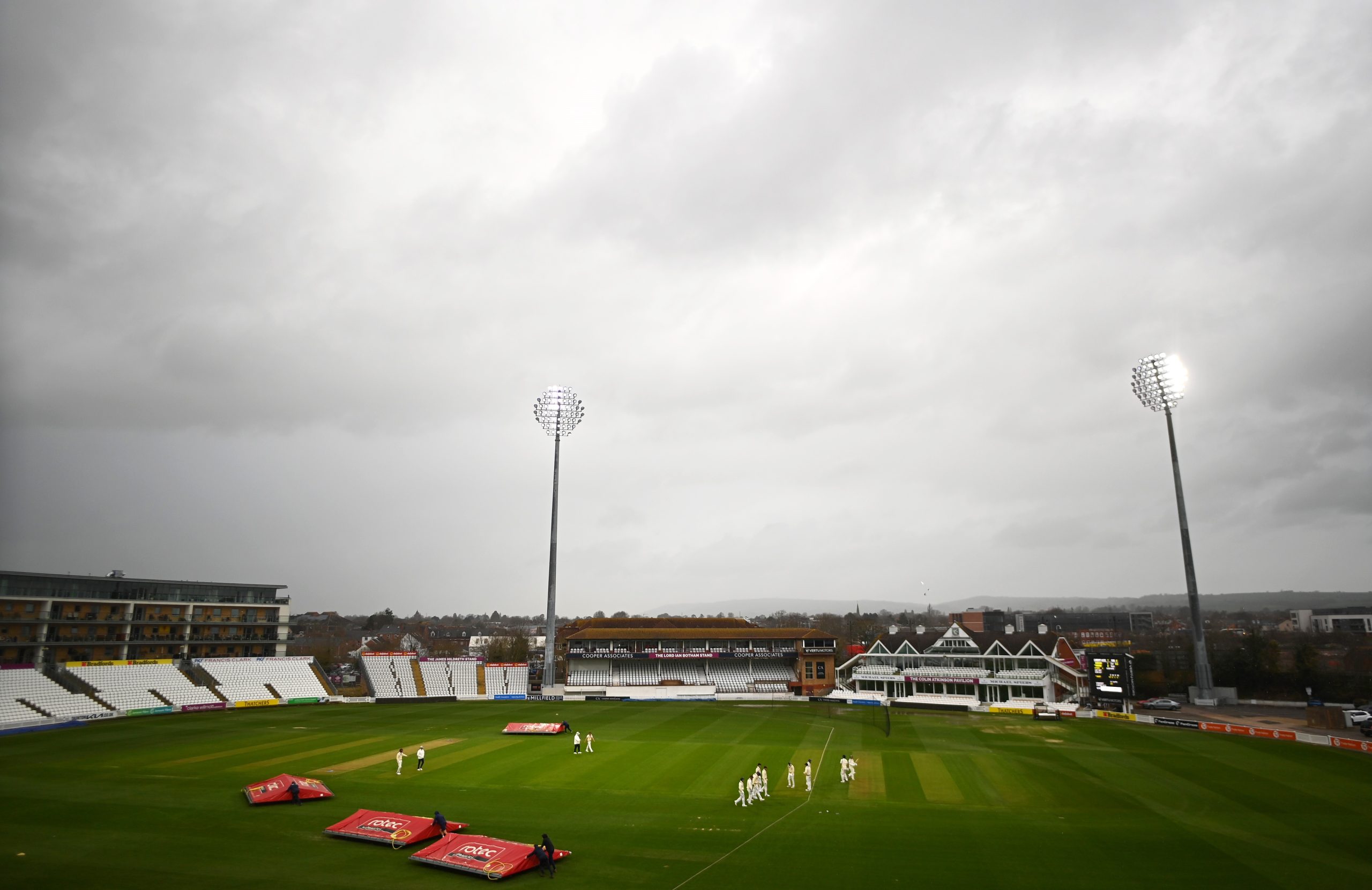 16:08 – Cardiff UCCE 7/0. Oh no! Rain is falling again. Just five balls have been possible.
16:03 – Evening session. Somerset have declared on 129/3. Chris Gibson and Harry Friend will open for Cardiff UCCE. Josh Davey will bowl the first over of the innings from the River End. The sky is dark. The floodlights are on.
15:42 – Tea. Somerset 129/3. That's tea everyone. The players leave the field with the scoreboard showing Sean Dickson 80 not out and George Bartlett 28 not out. The partnership is now worth 92. See you back here in 20 minutes.
15:22 – A fourth 6 for Sean Dickson who dances down the pitch and dispatches Tom Simmons over the rope for the second time in the over.
15:20 – Somerset 101/3. Another maximum from Sean Dickson brings up the Somerset hundred in the 20th over.
15:10 – 50 for Sean Dickson. We all hope that this will be the first of many at Taunton. The right-hander moves to his half century from 50 balls. It's also the 50 partnership for the fourth wicket. Somerset 90/3.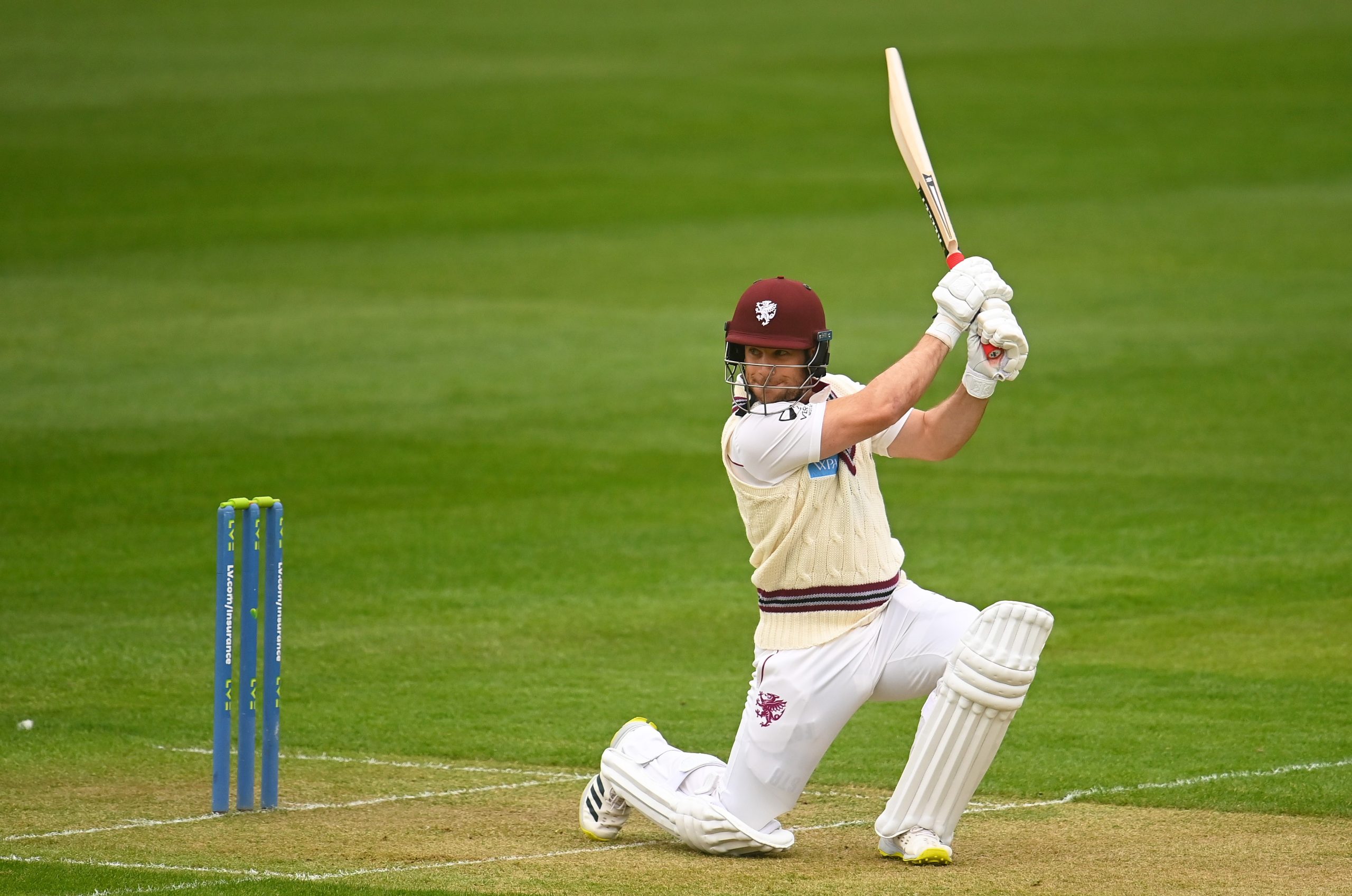 14:58 – Somerset 72/3. That's huge! Sean Dickson dispatches Tom Simmons into the Family Stand for a BIG maximum and moves onto 38.
14:44 – Somerset 52/3. George Bartlett brings up the Somerset 50 with a handsome drive to the boundary rope.
14:43 – Somerset 48/3. 10 overs gone. We've seen some lovely shots from Sean Dickson this afternoon. Somerset's winter signing has advanced to 27 at a run a ball.
14:32 – Wicket. Somerset 37/3. Lewis Goldsworthy is bowled by Raghavan for 4. In comes George Bartlett.
14:29 – Wicket. Somerset 33/2. Andy Umeed drives Raghavan to Kellaway at point and goes for 12. Lewis Goldsworthy is making his way to the middle for the home side.
14:15 – Wicket. Somerset 12/1. Tom Lammonby (0) attempts a drive but edges Rex to to Ben Kellaway. Andy Umeed is the new batter.
14:04 – Somerset 2/0. The second over of the day will be bowled by VV Raghavan.
14:00 – Tom Lammonby and Sean Dickson will open the batting for Somerset. Tommy Rex will open the bowling from the River End. Lammonby will face the first ball.
13:58 – Here we go! The umpires are on their way out to the middle, and here come the players.
13:50 – Not long to go now! The Ground Staff have done a great job in getting the outfield fit for play. The players are warming up and we will be under way in 10 minutes!
13:09 – UPDATE: We will start at 2pm. Somerset have won the toss and will bat first
12:19 – UPDATE: Further inspection at 1pm with an early lunch at 12:30pm
10:30 – UPDATE: It's just been announced that the umpires will make an inspection at 12pm. It's still looking pretty damp out there but our excellent Ground Staff are working hard and doing everything that they can.
09:46 – Update from Taunton and it's looking less likely we will start on time unfortunately as the outfield is still very wet. Updates as we get them.
09:20 – Good morning from the Cooper Associates County Ground. The skies are blue and we have activity out in the middle, meaning we are likely to get underway here in Somerset's first pre-season game of the season. There is a lot of water on the outfield but the boundary rope has been pulled inside.
---
MATCH PREVIEW
Somerset welcome Cardiff UCCE to the Cooper Associates County Ground tomorrow (Wednesday March 22nd) for a three-day pre-season match.
HOURS OF PLAY
Session one: 11am to 1pm
Lunch: 1pm to 1:40pm
Session two: 1:40pm to 3:40pm
Tea: 3:40pm to 4pm
Session three: 4pm to 6pm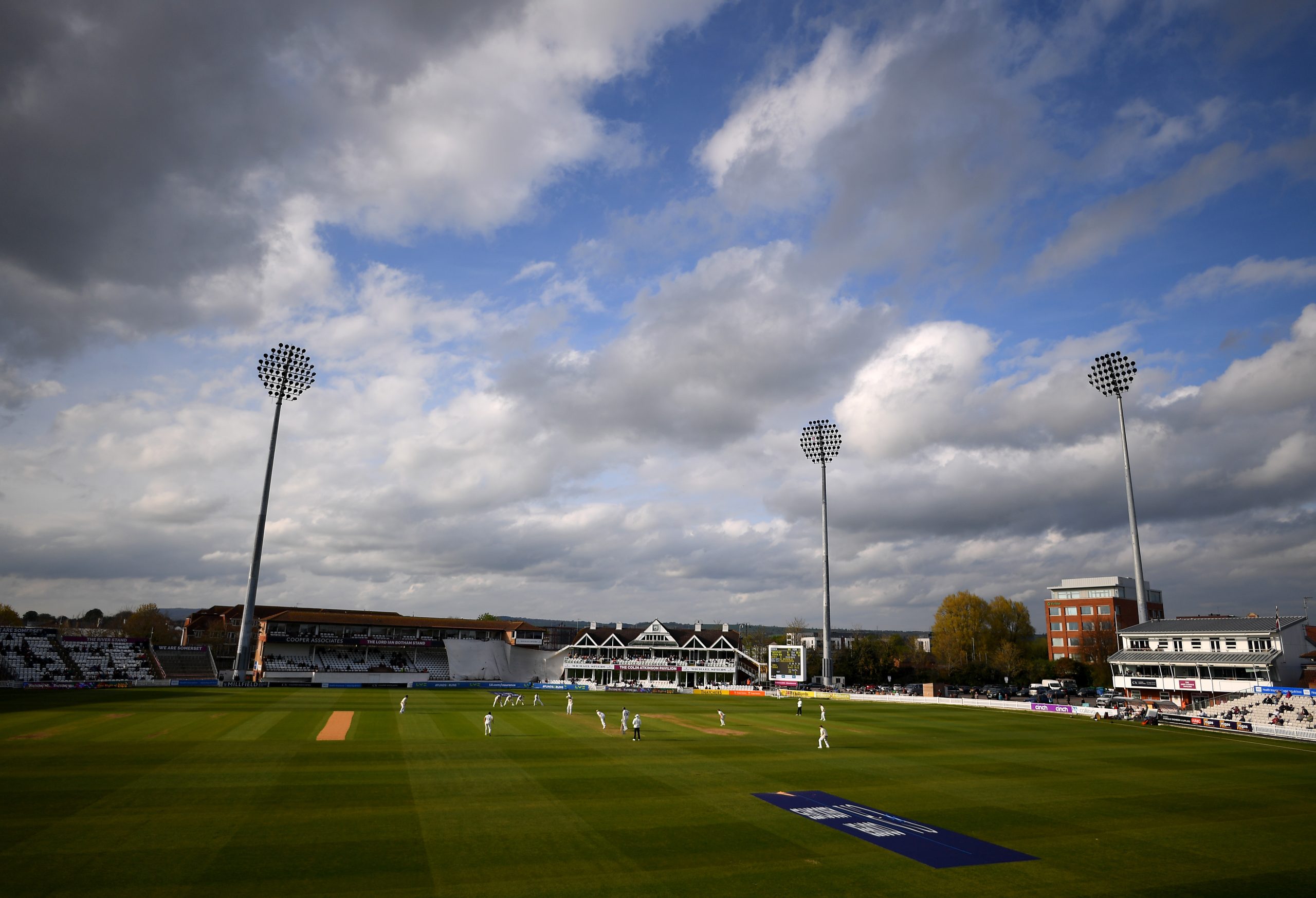 IMPORTANT INFORMATION
Entry to the Cooper Associates County Ground will be free of charge. Membership cards will not be required.
The pay and display car parks at the Cooper Associates County Ground will be in operation. Spectators will therefore need to pay for their parking on the day. Parking will be available on a first come, first served basis.
Seating will only be available in the following areas:
The Ondaatje Family Stand
The Ondaatje Non-Alcohol Stand
Marcus Trescothick Pavilion Lower
Marcus Trescothick Pavilion Upper
Gimblett's Hill (partial)
Refreshments will be available in the concession units in the Marcus Trescothick Pavilion Upper and Lower.
The Long Room will not be available for this fixture, but Long Room Members may use the 1875 Club facility.
During this match, members of our Commercial Team will be holding digital drop in clinics. Our staff will be on hand to answer any questions that our Members and supporters have about any of the new digital initiatives that the Club have implemented over the winter. If you have any queries regarding our new ticketing app, booking system or website then please drop into Reception in the Andrew Caddick Pavilion, where one of our friendly team will be on hand to answer your questions.
HOW CAN I KEEP UP TO DATE?
The Somerset digital team will be using this match to test improvements and updates to our live stream production. If, over the course of the fixture, we are able to share any content, this will be posted on our YouTube channel.
A live blog will appear on this page during this fixture.
In addition to this, a report on the day's play along with quotes will be posted on this website.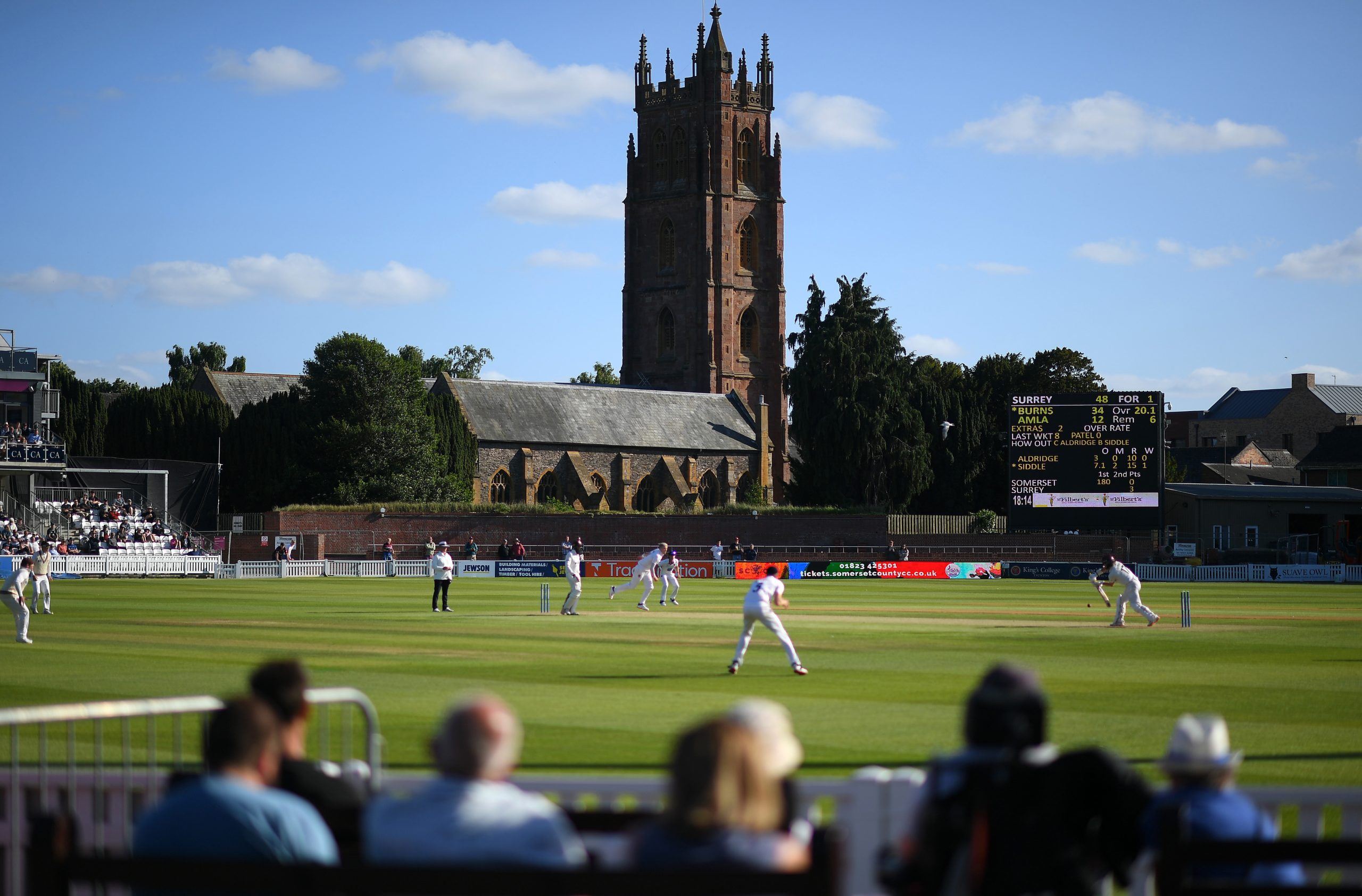 CLASSIC MATCH
When the two sides met at Taunton Vale Sports Club at the end of March 2012, it was a match that saw records smashed, personal bests achieved and it also saw the First Class debut of a future England Test star.
James Hildreth was captaining Somerset and he started the day one by winning the toss and electing to field. That would not be his only success over the three days.
Gemaal Hussain, James Burke and Craig Meschede claimed an early wicket each as Cardiff slipped to 61 for three in the 23rd over.
However, by the end of the opening day Zac Elkin had reached 127 not out as the visitors closed on 308 for five.
Cardiff UCCE were eventually declared on 342 for seven, Elkin (138) being the final wicket to fall.
Somerset openers Nick Compton and Arul Suppiah shared an opening stand of 121, until the latter fell for 41. Compton was then joined in the middle by Hildreth.
The pair took the attack to the Cardiff bowlers and by the close of play Somerset were 447 for one.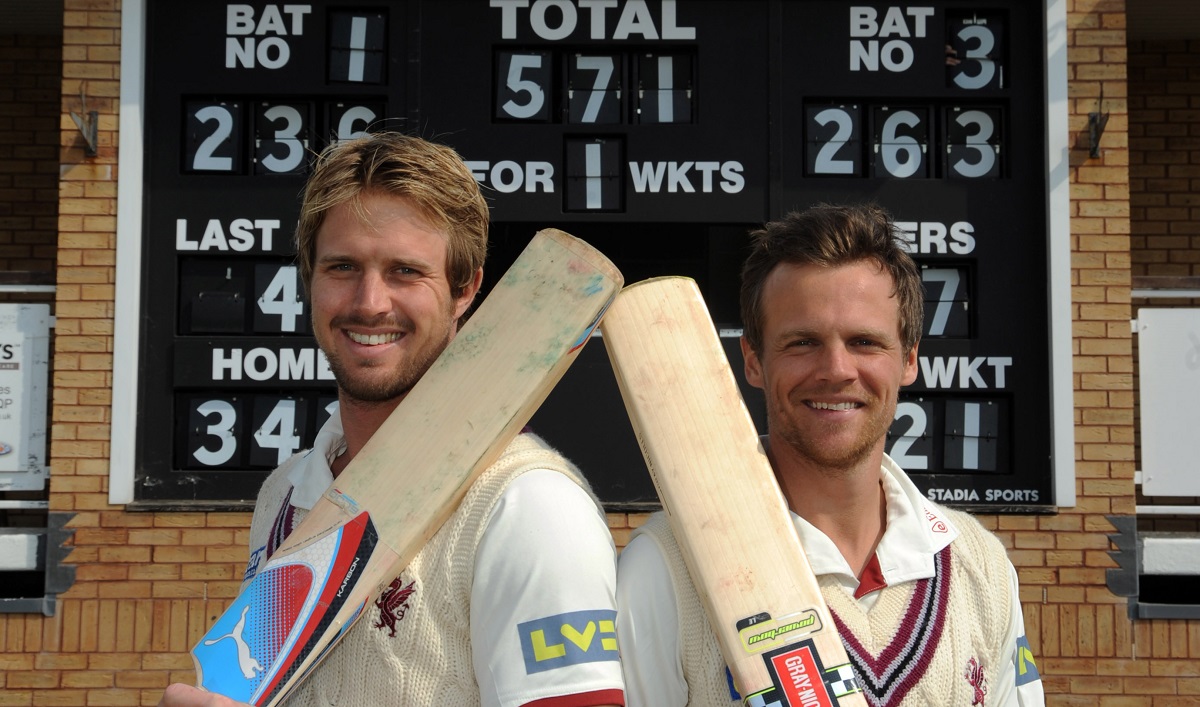 On day three, Compton and Hildreth took their side to 571 and in doing so set a new record for Somerset's highest ever partnership in First Class cricket (450). Compton was the batter dismissed for 236.
Hildreth went on to make 268 as Somerset declared on 642 for three. Andrew Salter was the pick of the visiting bowlers, claiming all three wickets.
One bowler in the Cardiff attack would go on to make quite a name for himself. A young spinner named Matthew Leach, known as Jack to his teammates, went wicketless on his First Class debut against his home County, but in just a few years would become one of Somerset's most loved players.
By the time the game had come to a conclusion and finished as a draw, Cardiff UCCE had posted 126 for five in their second innings and Max Waller had claimed his best ever First Class return of three for 33.
TEAM NEWS
Somerset will be without Tom Abell (side) and Tom Banton (finger). Lewis Gregory will captain the side.
Head Coach, Jason Kerr has named the following squad for this fixture: Lewis Gregory (c), Kasey Aldridge, George Bartlett, Shoaib Bashir, Josh Davey, Steve Davies, Sean Dickson, Lewis Goldsworthy, Ben Green, Tom Lammonby, Ned Leonard, Craig Overton and Andy Umeed.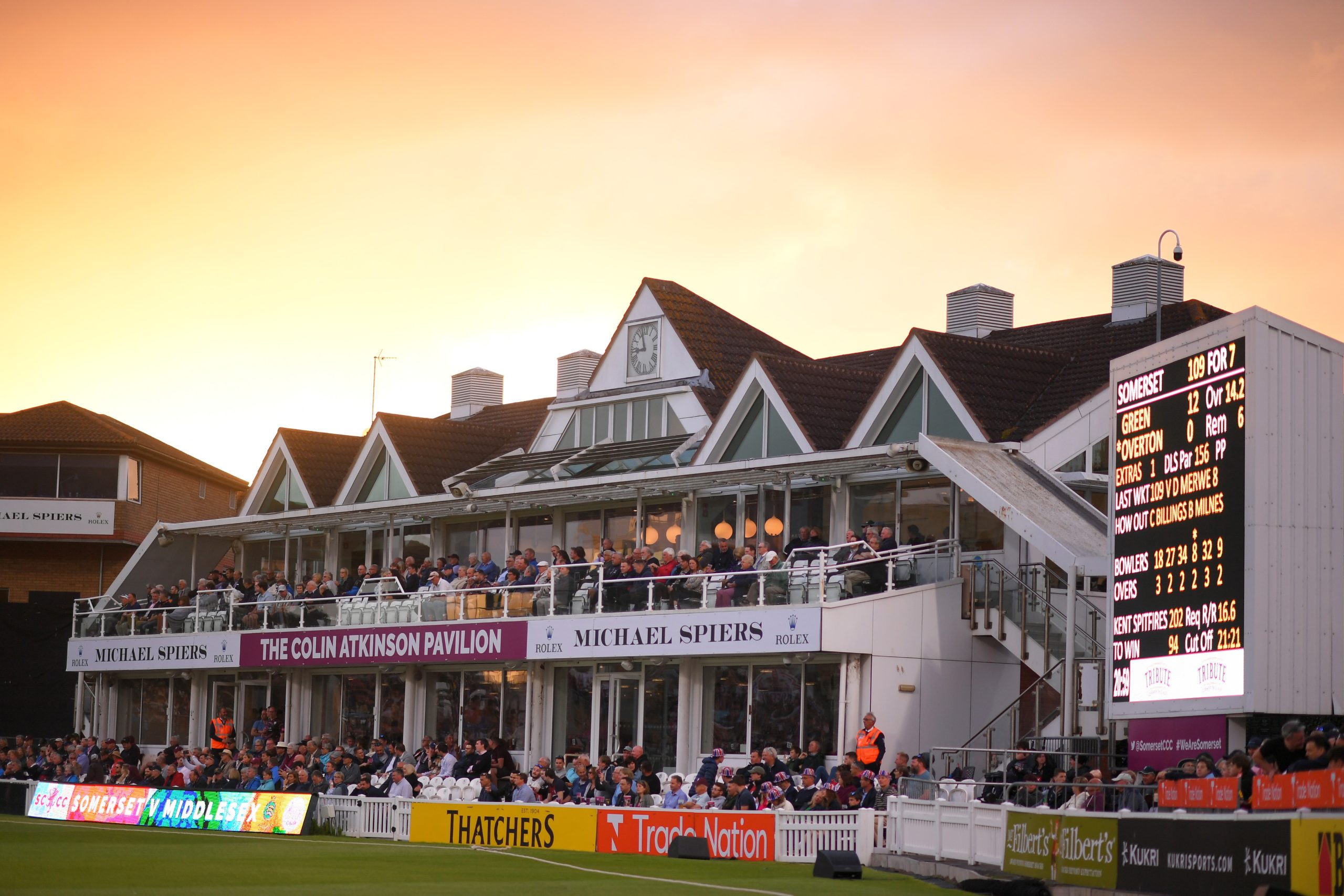 VIEWS FROM THE DRESSING ROOM
Ahead of the match, Somerset Head Coach, Jason Kerr said: "It's really exciting to have the opportunity to get back on the grass here at home. Anticipation of playing in front of the Members and supporters at Taunton again has been building over the winter.
"We had an extremely productive trip to Abu Dhabi and our pre-season fixtures give the players further opportunities to perform. These games are about maximising those opportunities. Conditions will be a little bit different to what we've experienced in the last few weeks, so there will have to be a degree of adaptability there.
"There's fantastic competition for places at the moment and everyone's been training really well, so we're looking forward to these pre-season games. Obviously, we have one eye on the first Championship fixture and these games will give everyone the opportunity to hone their skills and stake a claim.
"The annual university match is a valuable fixture. It's a big game and the university players will be looking to get First Class scalps. It's an opportunity for them to showcase their skills against professional players, so we have to make sure that we concentrate on the task that's in front of us."
NEXT MATCH
Somerset's next match is a three-day pre-season match against Glamorgan at the Cooper Associates County Ground. The game will begin on Monday March 27th.
Entry to this match will once again be free of charge.