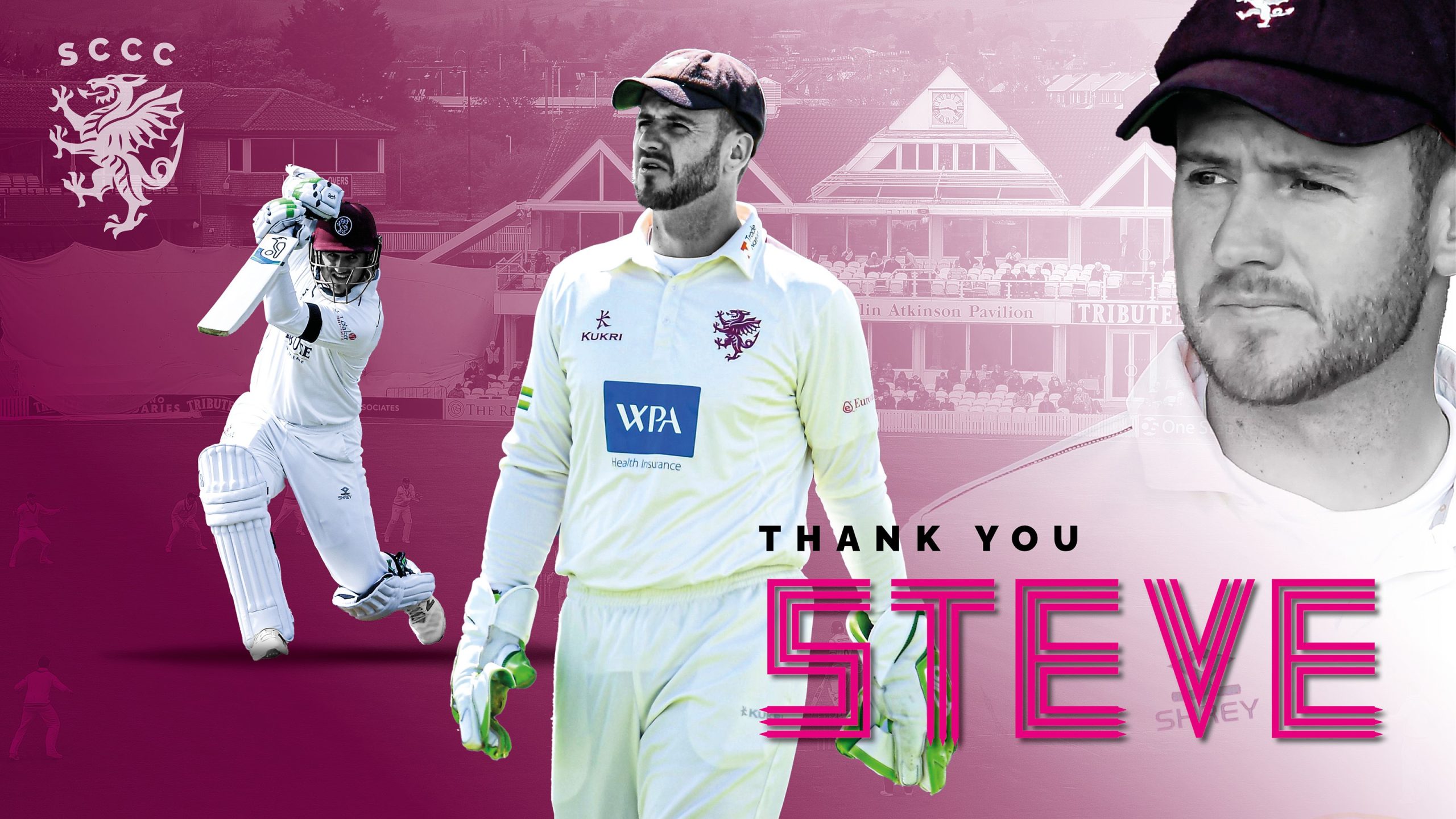 An open letter from Steve Davies
I will always look back at my career with Somerset fondly.
During my time here we managed to win a couple of trophies and play some pretty good red-ball cricket in patches too! There was a period around the "covid years" where we were playing some dominant cricket that will live long in my memory. Unfortunately for us, Essex were too, which meant we couldn't get our hands on that first Championship trophy. 
Now is the right time for me to retire.
I always said to Andy Hurry that as soon as we get the right person in place to take over, I would step aside and let them get their exposure and learning done while they are young. I think we can all agree that the Club is in safe hands with Rewy behind the stumps. It's been a joy to see him flourish so far and I think we have a little superstar on our hands.
In terms of when I knew, it was at Lord's for the four-day game earlier in the season.
My goal for the year was to work hard and try and get back in the First Team. I had performed well for the Seconds and earned my recall. Unfortunately, as soon as I got back there, I just knew there was something missing. I couldn't justify to myself that I deserved that position in the team when we had young, hungry players on the sideline. I played the four-day games against Lancashire and then Middlesex, and it was at that point that I just knew I had to say something to Jason Kerr.
I look back on those four days at Lord's with such great memories. For my last game to be at the Home of Cricket, and for it to be a win in the format that I love the most with my mates was a fitting end. I just couldn't have asked for much more. I remember sitting on the nursery ground before the warm-up one morning just looking around and feeling really content. It was a lovely moment for me. 
Of course, I'd like to take this opportunity to say a few thankyous. Firstly, to all the Members and supporters from Worcestershire, Surrey and Somerset. You have always shown me great support through the ups and the downs, so thank you! Secondly to all the Directors of Cricket, CEOs, coaches and staff for all the opportunities that they have given me. It was always appreciated. Thirdly, a special thank you to Rob Wood, who was my first cricket coach and gave me the fundamentals and skills needed to get me ready for a life of professional cricket. He had a huge impact on my career. Lastly, and most importantly, I'd like to say the biggest thank you to my family: Lin, Michael and my sister Gemma. They have seen it all, the good and bad, and they have always been by my side without question. They are great people and I love them all very much. I hope I have done them proud. 
Cricket has given me a life that I could only have dreamt about, and I will be forever grateful to the game for that. I will miss it, but I'll be watching closely and I look forward to seeing how the game evolves over the next few years.
What's next? My next chapter with be in wealth management and financial planning. The plan is to start my own business, which will hopefully go live next April, so if anyone is in any need of some help, please get in touch!
The goal is to help as many people as I can!
Thank you all!