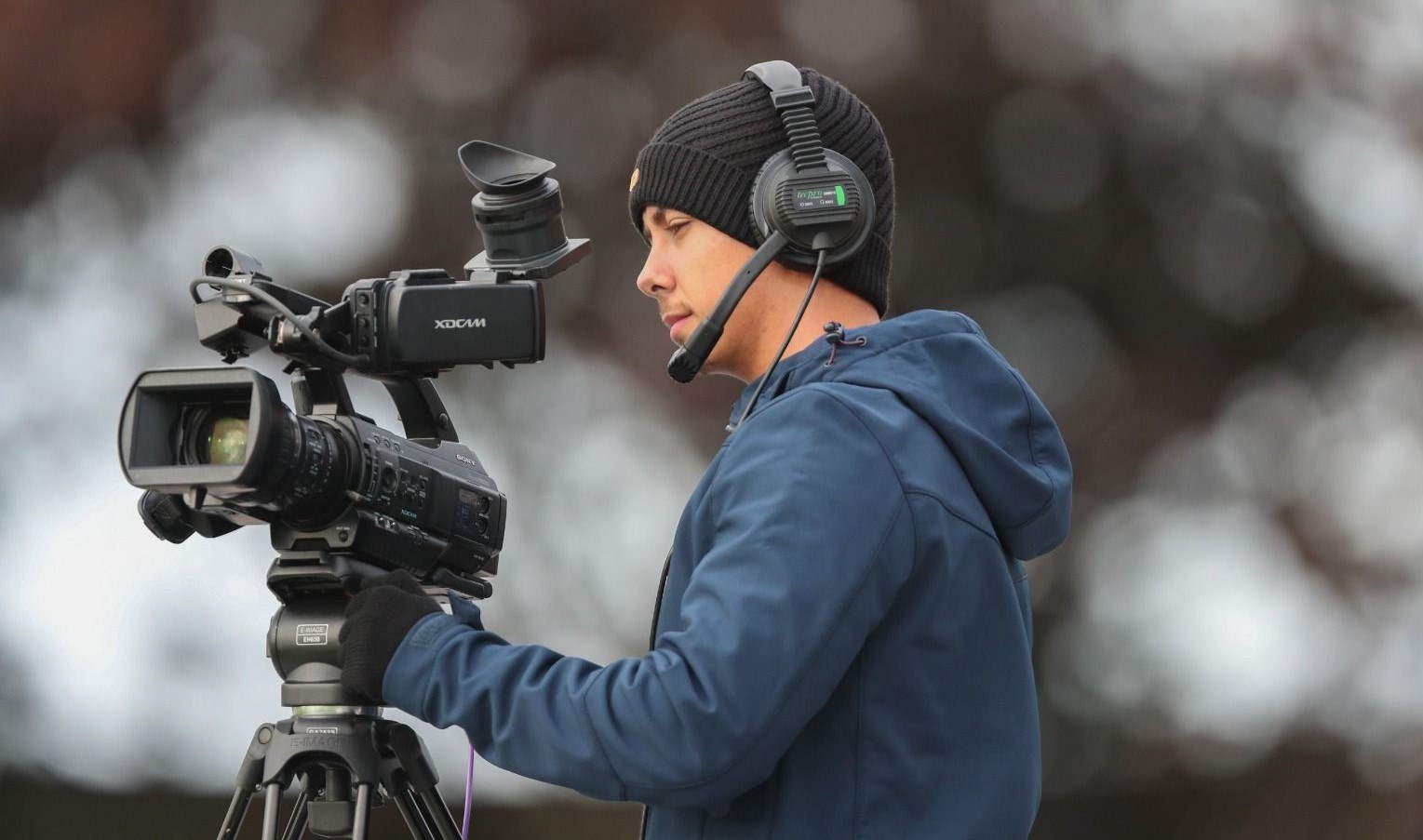 Taunton-based Andrew looks back at a summer behind the camera
Somerset County Cricket Club's live stream service continues to go from strength to strength.
A large element of this is due to the coverage provided by the camera operators who are responsible for the pictures that are streamed.
One of those operatives is Andrew Holmes, who is now at the end of his second season with the Club.
Before he headed off for the winter, we caught up with Andrew who told us a little about the part he has played in helping to shape the live stream and how it has helped him.
"I'm the lead camera operator and I've been overseeing the two new interns who have come on to the team this year."
Andrew explained how it all came about.
"I grew up in Taunton and did two years media studies at Bridgwater and Taunton College. I then went off to do a three-year degree course in Film Production Cinematography at Bournemouth University. Through that I've developed my production skills, primarily behind the camera, and that led to a few opportunities working for companies like Netflix.
"Then two years ago I was looking for work locally and I came across an advert from another First Class County looking for a camera operator for their live stream. I thought that Somerset must be doing the same and they are right on my doorstep. I contacted the Club and it so happened that they were hiring that week.
"The stars aligned, and they took me on a week later. I've been here ever since.
"Coming here to join Somerset was a new avenue of broadcasting and something that I haven't done before so I wanted to explore that, and it's worked out pretty well for me.
"Since I've been here the stream has grown. My first year was the first year we had the free-roaming camera, and now we've got a second camera and a higher quality overall production. We've expanded the team a little more, which allows for more coverage and a better service for viewers. I would say we are providing quality as well quantity.
"Somerset are right up there with the front runners in clubs providing live streaming. Recently there was a poll of opinions on Twitter, and of all the counties we were highly rated and a very popular choice."
What about the months between October and April?
"Last winter I was covering the British Basketball League (BBL), working with a small studio who assist Somerset with their live stream. They saw what I was doing and took me on to work with them."
As well as working for Somerset, during a break in the fixtures this summer Andrew went off to Birmingham University to cover the International British Blind Sporting Association (BBSA).
"This was essentially the qualifiers for the Para Olympic Games in Paris next year, which was very exciting. The sport I was covering was blind football. It's 100% effort for about an hour. They play with quite a hard football which has a rattle inside so the players can hear where the ball is. It's five-a-side teams with a fully sighted goalkeeper which makes it very interesting to cover.
"Everyday we would go and set up the cameras and introduce ourselves to the players in the teams and the referees from different nationalities, and this went on from 8am until 8 o' clock in the evening."
Andrew talked about how much working with Somerset has helped him in his career.
"Working here for Somerset on the live stream has opened doors elsewhere for me. I've worked for Sky Sports as well.
"I like covering the different seasonal sports. In the summer I can cover cricket and then in the winter I can do football and rugby with Sky and basketball too, which is what I am hoping to be able to carry on with this winter."
Finally, are we likely to see Andrew back for a third season in 2024?
"I very much hope so," he replied.