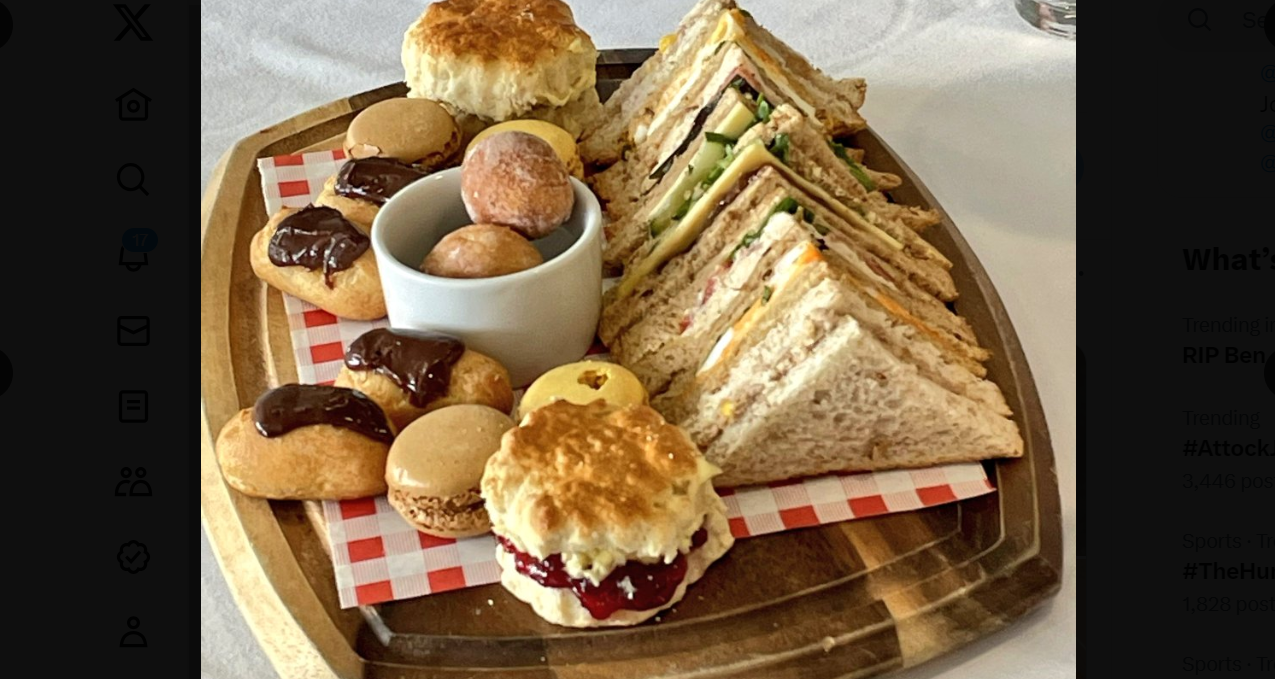 Somerset Scoop Noshes Award!
Somerset County Cricket Club have this week been crowned winners of the 2023 Noshes after the Club's Afternoon Tea was voted the best food from across the country on well-respected Twitter account, Cricket Nosh.
Having joined Twitter in March 2022, the page was set up to allow cricket fans to post photos of food purchased at cricket grounds up and down the country, before followers of the page voted whether it was worthy 'nosh' or 'not nosh'.
Pictures of match food or food provided for spectators are all accepted, with factors such as price, quality, portion size and even the view of the match taken into consideration before a score out of 10 is awarded.
The victorious two-person platter served inside the County Room of The Colin Atkinson Pavilion includes 10 varying finger sandwiches, two scones with cream and jam, mini-donuts and eclairs accompanied by macarons and a pot of tea.
NOSHES GRAND FINAL!!! 🏏🍔📸🏺

Highest % Nosh votes in the NoshPoll™️:

Samosa at Headingley (91% £1 @ClareMatic)

Breakfast Yorkshire pudding at Headingley (87% £12 @RobRush02)

Tea at Taunton (95% £9 @jonboy_avfc)

Fried chicken at The Oval (98% £15 @trtaiwan)

📸 below!

— Cricket Nosh (@CricketNosh) August 1, 2023
The happy customer awarded the afternoon delicacy a whopping 9/10, with the size, variety and poignancy all credited within the post, while a special mention was awarded for the "outstanding" view of the Women's Ashes One-Day International fixture in July from the Colin Atkinson Pavilion at the Cooper Associates County Ground.
Once the photo and review had been posted on the Cricket Nosh account, it was up to the rest of the account's followers to decide whether the food was  'nosh' or 'not' via a poll voting process.
A whopping 94.9% of the vote concluded that the Afternoon Tea at The Cooper Associates County Ground was indeed certified 'nosh', meaning it was entered into the Grand Final of the 2023 Noshes.
Up against some stiff competition, the Afternoon Tea beat off the Kia Oval's Jerk Fried Chicken, Headingley's Samosa as well as their Breakfast Yorkshire Pudding to be crowned the 2023 Noshes winner with 34% of the final vote.
Our award-winning Afternoon Tea is served in the County Room of the Colin Atkinson Pavilion and is available at Somerset County Cricket Club for all the remaining home fixtures during the 2023 season, and you can book your matchday Tea below.
Bookings are available for the Metro Bank One-Day Cup home games against Sussex and Glamorgan during August, before the last chance to enjoy the Afternoon Tea experience at The Cooper Associates County Ground this season is the LV= Insurance County Championship match against Kent commencing on September 26th.