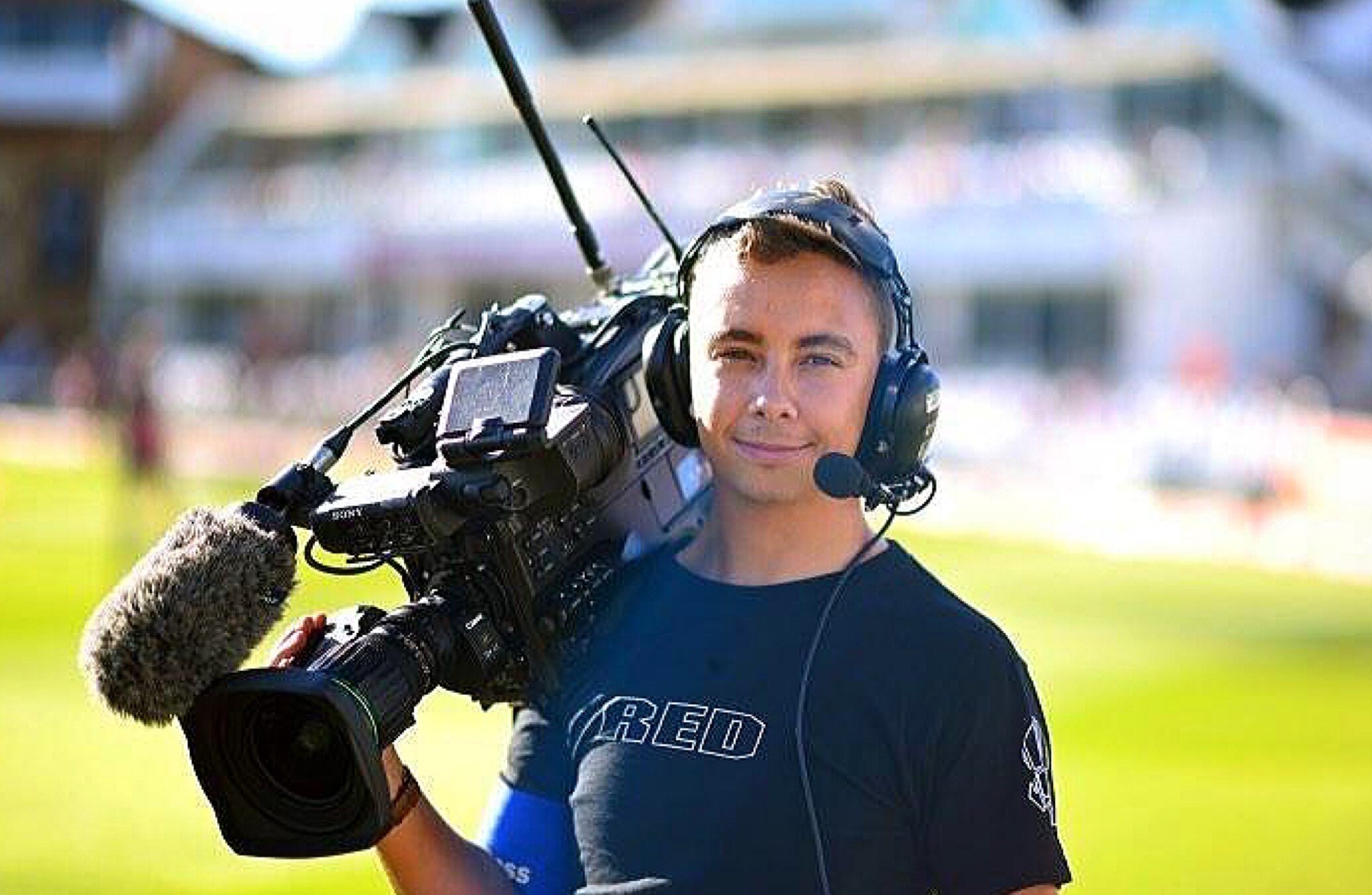 For a second consecutive year, Somerset County Cricket Club offered a number of entry level opportunities for young people to assist with our award-winning live stream production.
One of this year's successful applicants was Andrew Holmes.
Andrew joined the Media Team for the 2022 season, and during his time with Somerset went on to work for Sky Sports during other sporting events including the Vitality Blast, International Cricket and Premier League football.
We caught up with him this week to discuss his experience.
Why did you apply for the role?
"I wanted to put my recent degree in film to good use, so I started looking jobs in the region. I came across a camera assistant role at Somerset County Cricket Club, so I contacted them and it just so happened that they were looking for a live stream assistant. I know nothing about cricket, but I thought I'd give it a shot. Everyone was very welcoming when I went in, and I landed the role due to my background in camera and film production."
Did your degree stand you in good stead for the position?
"A lot of the skills required were easily transferable. Knowing how to set up a camera and a tripod and linking to the live stream studio came easily to me because of the skills I'd learned at university. It was more about learning the sport and how to follow it. That was the main thing that I needed to get to grips with.
"Thankfully, everyone at the Club loves cricket, so I asked a lot of questions! Everyone was very helpful and explained the sport to me. Over the course of the season I learned how to follow a game of cricket."
How did you approach the role?
"It was about diving in headfirst and seeing how I did. Then it was all about practice and repeating. Once you get a rhythm, you begin to get a feel for things. Championship cricket requires more mental perseverance, especially when it's cold or raining. With the T20s, you need to be on it a lot more. You have to be more reactive and trust your instincts as well as being aware of what's happening in the crowd and on the pitch."
What was the highlight of the summer for you?
"The best part of the experience was becoming part of the team. I was a bit worried that not knowing a lot about cricket would mean that I wouldn't gel with the live stream team, but everyone made me feel really welcome within the environment. I felt that I could make suggestions on how to improve or change things from a camera perspective. The atmosphere at the evening T20s was also really good and everybody seemed to be having a great time.
"One of the main things I've taken away from this is the importance of networking. I've met a lot of good people through my time at Somerset and because of that I've made some contacts at Sky."
Would you recommend the role to other people?
"It was a very positive experience and I've recommended it to several people already. If Somerset were to offer a similar position next year, I would definitely recommend it.
"Working with Somerset this summer has definitely opened some doors for me, and I think that they offer a very good entry level role for people wanting to get into the industry."
What have you been doing since the end of the season?
"Since the season finished, I've worked on some rugby and some basketball. Because I'm freelance the key now is securing more consistent work. Over the next few years I'll be looking to develop my networking skills to the point where I know that I can be working regularly at cricket in the summer and at rugby or football in the winter."