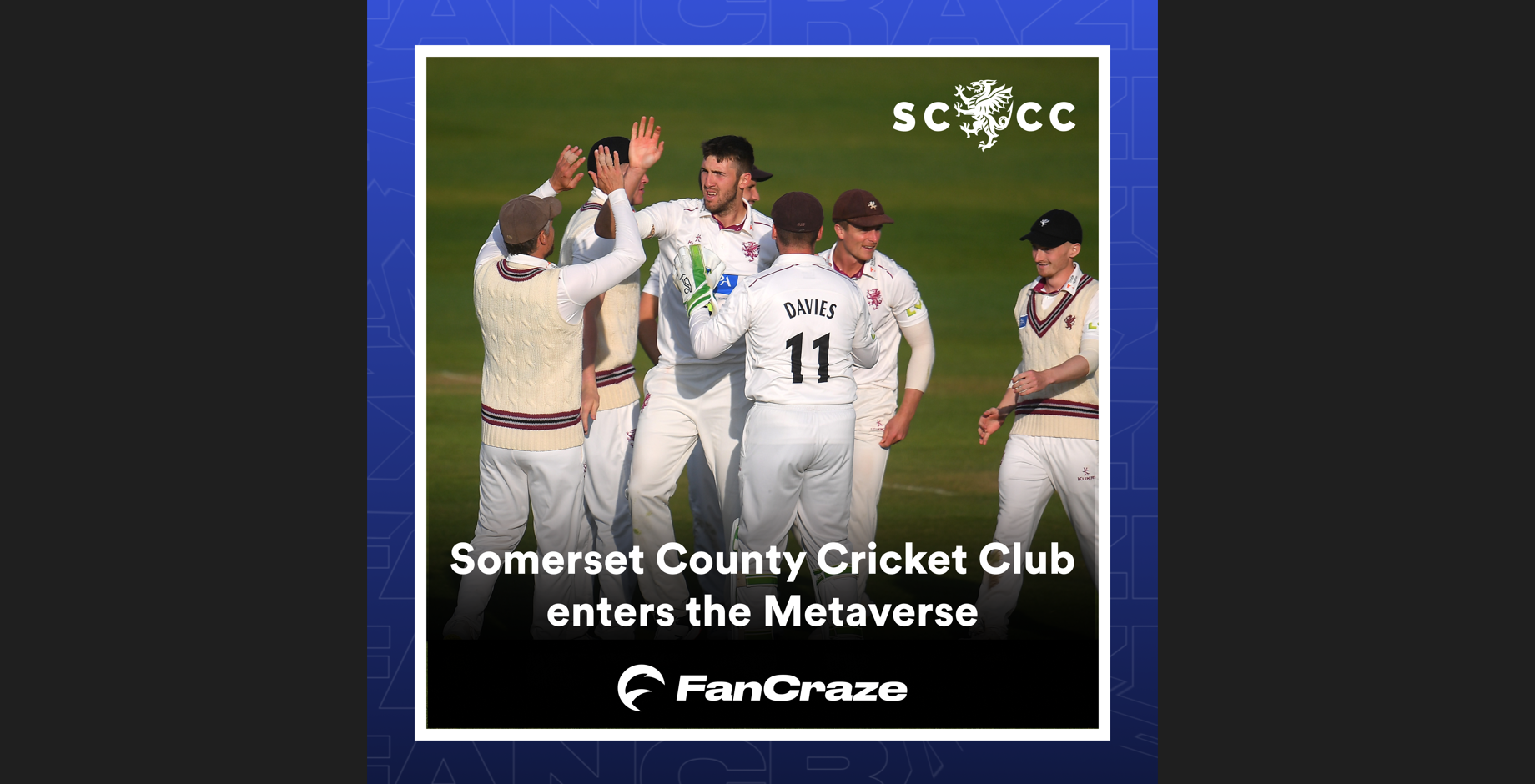 Somerset County Cricket Club is delighted to announce a new multi-year partnership with FanCraze, the world's largest cricket NFT platform.
This historic collaboration brings Somerset County Cricket Club into the metaverse. For the first time ever, fans will be able collect moments and player cards of their favourite county cricketers, trade with fellow collectors, play cricket strategy games, and unlock unique real-world experiences.
Somerset CCC joins 11 other English county clubs as the latest additions to FanCraze's high-profile portfolio of partners, which include the International Cricket Council (ICC), Asian Cricket Council (ACC), SA20, Cricket West Indies (CWI), Chennai Super Kings, Delhi Capitals, Lucknow Super Giants, Rajasthan Royals, and cricket stars including Virat Kohli, Rohit Sharma, and Mahendra Singh Dhoni, amongst others.
Somerset CCC Commercial Director, Caroline Herbert said: "The sporting NFT market is a field that is growing rapidly and FanCraze are at the forefront of this digital innovation.
"FanCraze have recently partnered with some of the biggest names and teams in the world of cricket and we are pleased that Somerset County Cricket Club is now amongst that number. This is an exciting partnership for the Club and our Members and I look forward to seeing how the partnership and the world of cricket NFTs develops in the future."
Anshum Bhambri, CEO of FanCraze remarked: "We are proud to partner with Somerset County Cricket Club along with other legendary clubs across the English County ecosystem. We are excited to build a new paradigm of engagement between these storied institutions and their fans by leveraging digital assets, gamification, and money-can't-buy experiences."
About FanCraze
FanCraze is a global technology company with a mission to build the metaverse for cricket. FanCraze has raised $117.4m from leading global investors including Tiger Global, Insight Partners, Coatue, B Capital, Sequoia India, Dapper Labs, University of California, and Cristiano Ronaldo amongst others.
FanCraze is the Official Digital Collectibles partner of the International Cricket Council (ICC), Asian Cricket Council (ACC), Cricket West Indies (CWI), and a number of teams, leagues and cricket stars that give the company a portfolio of more than 50,000 players.
Get your first digital collectibles at www.fancraze.com
What are NFTs?
NFTs (Non-fungible tokens) are digital files which are used to represent ownership of unique items. They can be a jpeg of a piece of art, real estate, or a video. Turning files into NFTs helps secure them via blockchain to make buying, selling and trading efficient, reducing fraud considerably.