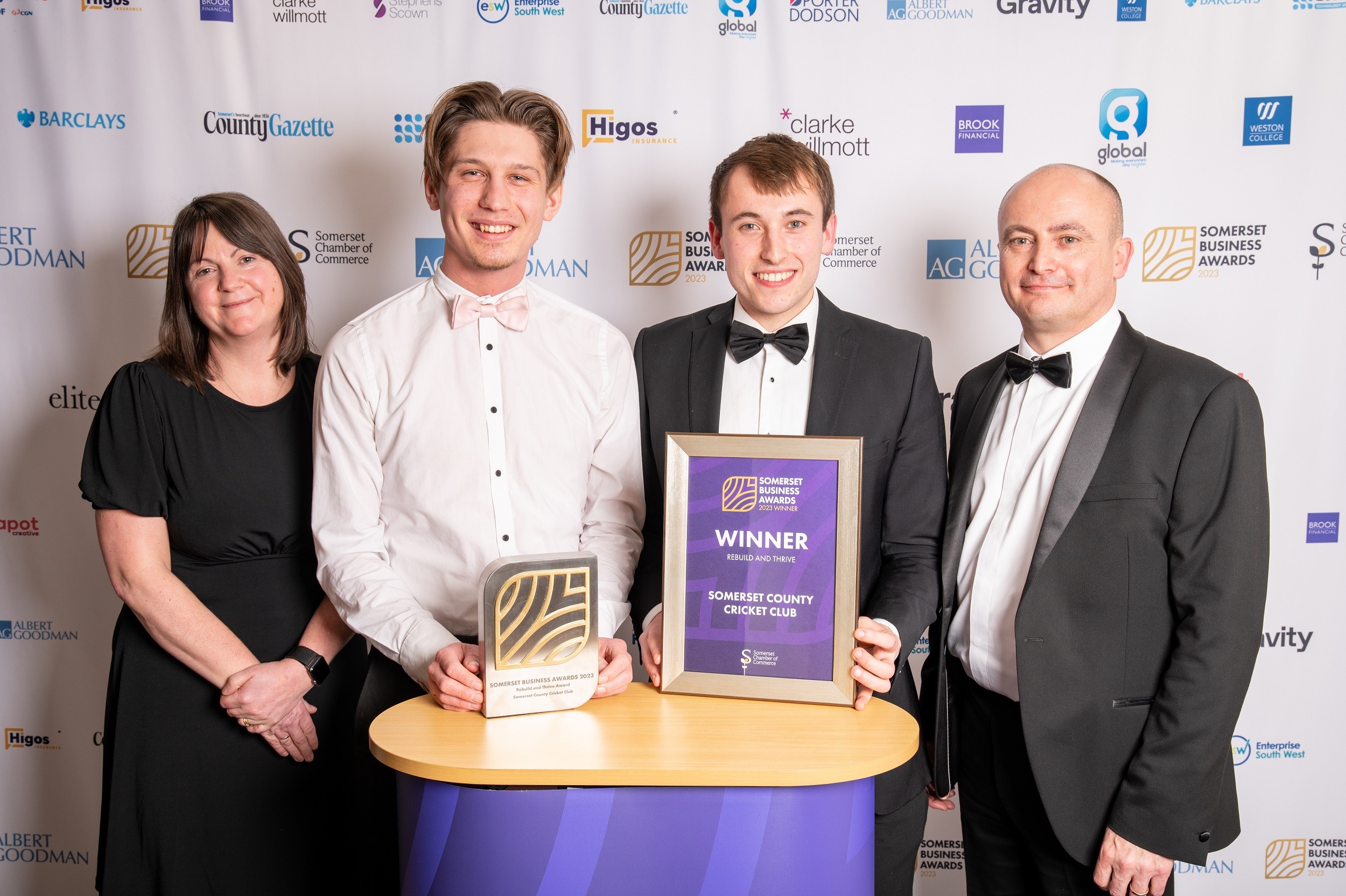 There was success for Somerset CCC at the 2023 Somerset Business Award.
The Club were named as winners in the Rebuild & Thrive category at the black-tie dinner and presentation which was held at the Winter Gardens Pavilion, in Weston-super-Mare on Friday.
Nearly 400 business people from across Somerset attended the gala evening, which was organised by Somerset Chamber of Commerce and hosted by BBC broadcaster and journalist Claire Carter.
The judges of the Rebuild and Thrive category were looking for an inspirational business which was able to demonstrate their response to adversity, whether it be Covid 19, Brexit or other issues that have affected the business.
In the winter of 2021, Somerset County Cricket Club used a number of techniques in order to achieve the following post-Covid 19 objectives:
Attract consumers back to the Cooper Associates County Ground after the pandemic
Sell more tickets than ever before in order to boost the finances of the Club, which in turn helps to solidify our short and long term future
Introduce a new and more diverse audience to the game
Appeal to younger audiences
During the summer of 2022, SCCC
were the only professional cricket club to sell out a Royal London Cup fixture.
sold 265% more tickets compared to pre-pandemic 2019
attracted more women to the game (from 20.1% to 21`.5%)
drove the average age of our audience from 54.7 to 48.8
saw the number of junior tickets sold increase by over 430%
After the Club scooped the award, SCCC Commercial Director, Caroline Herbert said: "We are delighted to have been recognised by the business community for the hard work that the staff put in following the pandemic. Our team have worked tirelessly to ensure the Club has continued to not just function but also grow in the post-Covid world. This is so important not only to protect the long-term future of the Club and the Cooper Associates County Ground but also for the wider community.
"Somerset County Cricket Club means so much to so many people and we understand our impact as both a local employer and a driver of the visitor economy in the region. We couldn't be more proud of a team whose relentless energy, commitment and passion delivered an amazing Royal London Cup campaign and built the foundations for a bright and sustainable future for the Club.'
Somerset Chamber Chief Executive, Emma Rawlings said: "There is much we can be proud of in Somerset and while times may be tough, it is clear our business community is fighting fit and meeting those challenges head-on."
Pictured are (second from the right) SCCC Marketing Manager, Dan Cooper who devised the Royal London Cup strategy and submitted the award application and SCCC Digital Marketing Executive, Todd Lindley (second from the left).