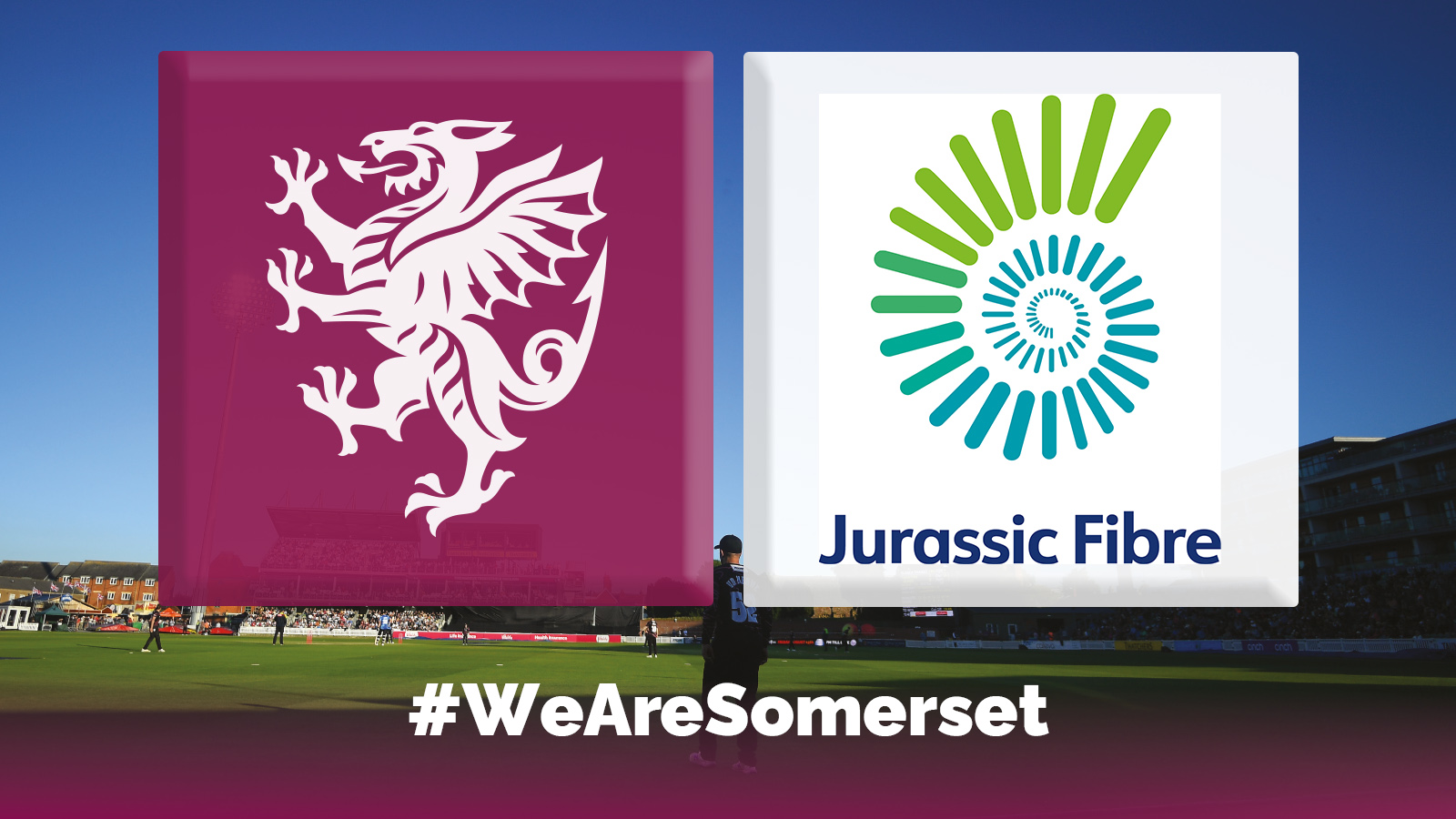 After enjoying the benefits of aligning their business with Somerset County Cricket Club, we are pleased to announce that ultra-fast broadband provider Jurassic Fibre have extended and expanded their partnership with us for 2023.
The two organisations began working together in 2021 and this year will see SCCC and Jurassic Fibre take their relationship to the next level!
South West-based Jurassic Fibre, which was named Best New Internet Provider at the 2020 ISP Awards, was established in 2018. The business is quickly becoming one of the fastest growing companies in the region with over 480 employees, and is continuing with its plans to expand the network for the people and communities of the South West.
2023 will see Jurassic Fibre branding appear on the sleeve of Somerset's Vitality Blast shirt, and they will also be sponsoring the Club's fan village at all Vitality Blast and One-Day Cup fixtures. This will enable Somerset to provide even more exciting entertainment and fun for our Members and supporters on matchdays. This will include live music, fabulous competitions and exclusive giveaways.
Regarding the new partnership, Somerset CCC Commercial Director, Caroline Herbert said: "This is a really exciting development between our two organisations. I am delighted Jurassic Fibre saw genuine benefits of working with us last season and have decided to expand their partnership further.
"Jurassic Fibre is a regional company with a big vision, and their support of our fan village on busy matchdays will markedly improve our already outstanding offering providing additional value and entertainment. We look forward to sharing more details with our Members and Supporters over the coming months but we are genuinely thrilled by what this year's fan village will bring to the experience."
Sarah Howells, Chief Customer Officer of Jurassic Fibre, said: "Jurassic Fibre is working hard to bring the businesses and communities of Devon, Somerset, Cornwall & Dorset the ultra-fast full fibre broadband network they deserve. Our partnership with Somerset Cricket Club was a great success last year, and we're delighted to be able to offer an enhanced experience for fans throughout this season."
To celebrate the new partnership and the general on sale of Vitality Blast tickets, anyone who purchases today will be entered into a competition to win an upgrade to hospitality, courtesy of Jurassic Fibre. *Must purchase before midnight on 21st February. *Maximum of 4 prizes available. *Winner to be announced 1st March.
About Jurassic Fibre
Jurassic Fibre is a Fibre-To-The-Premises broadband internet network developer based in South West England. The company was founded in 2018 to build out an ultra-fast network in Cornwall, Devon, Dorset and Somerset.  Jurassic is focused on building 1Gbps+ FTTP networks to homes and businesses in small towns and villages.  In February 2019, Jurassic Fibre was acquired by Fern Trading Limited, which is advised by Octopus Investments.