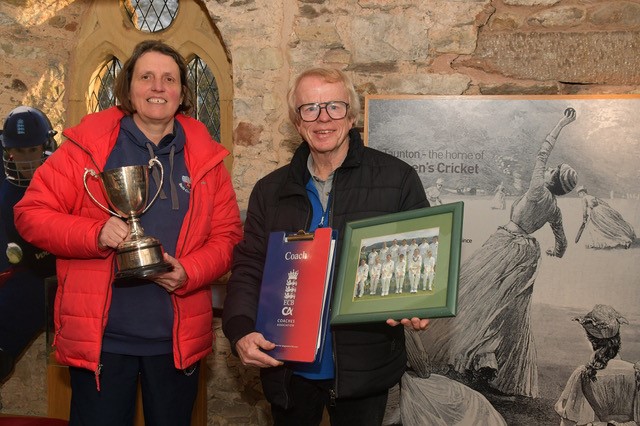 Former England and Somerset cricketer Jan Godman recently called into the Somerset Cricket Museum at the Cooper Associates County Ground to donate some items to add to the Women's and Girls Cricket display which is located on the on first floor.
Jan, who played a key role in the development of women's cricket in the county, appeared in two Test Matches and seven One Day Internationals as well over 100 List A and 19 T20 matches for Somerset.
She recently delivered the items which were formerly owned by her late mother Pat Siderfin, who herself was well known in cricketing circles.
Among the items was a picture and scorecard form a Somerset Girls Under 15s match against Kent in the 2002 county championship semi-final at King Edwards School in Bath. On this occasion Somerset were without one of their best players, Steph Davies, who had an England training commitment, and among those who played was a very young Anya Shrubsole.
Another item that was donated was the Women's Cricket U17 National Championship Trophy that was won by The West in the final year of the competition in 1998.
The Somerset Cricket Museum is looking to update the Women's and Girls display and build the content relating to Somerset Women and Western Storm. They are therefore keen to hear from anyone who could loan or donate any such memorabilia to the display.
The museum has also started to add biographical details of Somerset Women Cricketers to their website and anyone with any details and or photos is being urged to get in touch.
Log onto www.somersetcricketmuseum.co.uk to check out the current displays and also to find out how to make contact with the curator.
The picture shows Jan Godman handing over the donated items to Patrick Draycott who is one of the invaluable volunteer helpers at the Somerset Cricket Museum.