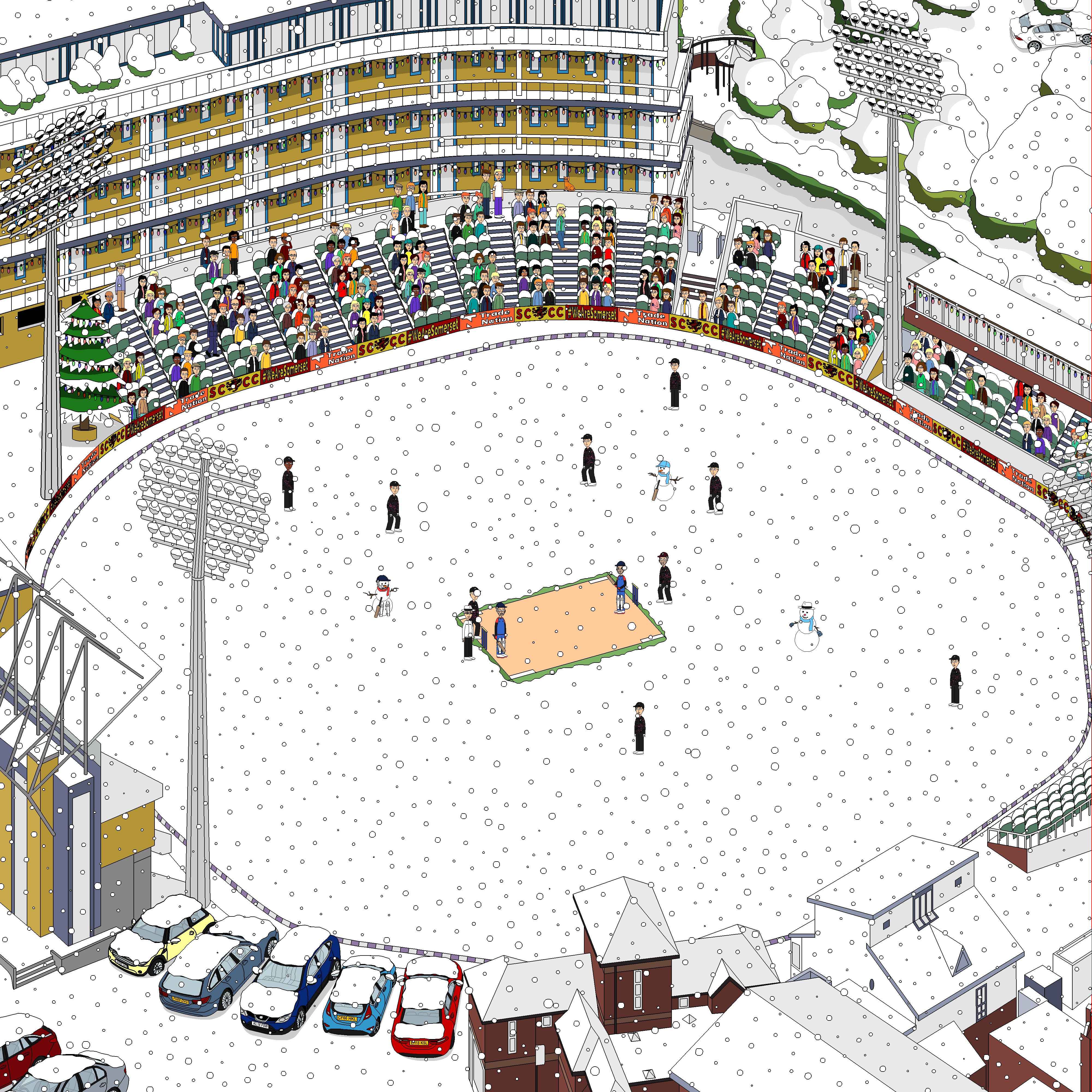 7 Christmas Gift Ideas from SCCC
With Christmas now just around the corner, thoughts turn to what gifts you could get for your loved ones this festive period.
Let Somerset County Cricket Club take the hassle out of Christmas shopping this year by bringing you a range of gifts to suit all budgets and tastes!
Here are our seven Christmas gift ideas:
1 – Membership
Membership of Somerset County Cricket Club is the perfect gift for the cricket lover in your life!
There are a huge range of options available to suit every taste and budget.
With prices starting from just £21, Membership is the ideal present this Christmas.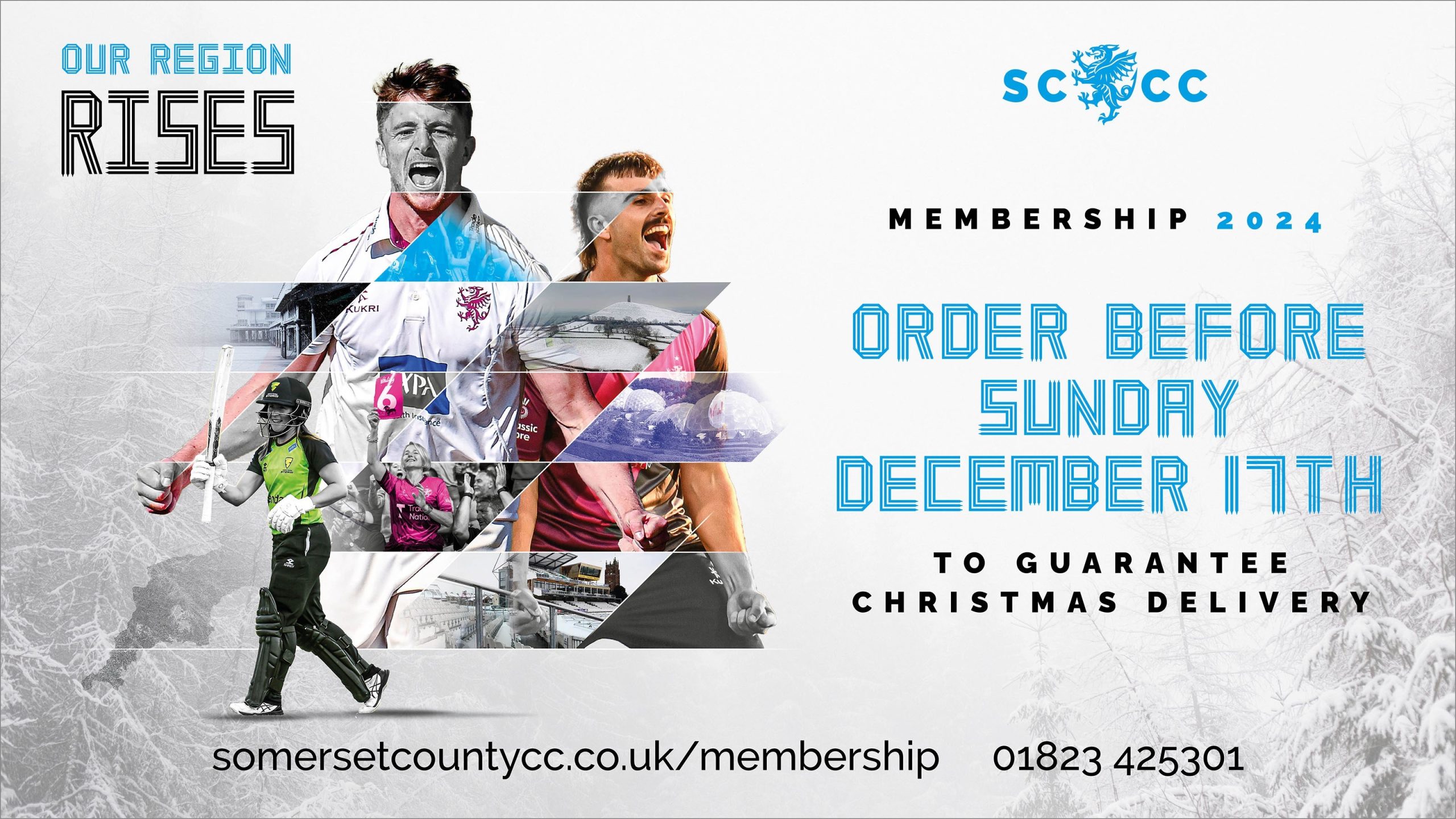 2- Brand New Membership for 2024: Introducing Associate Plus
This limited edition package will provide you with everything that the cricket all-rounder could want: live action and Somerset CCC merchandise!
There are only 100 Associate Plus Memberships available and the package includes: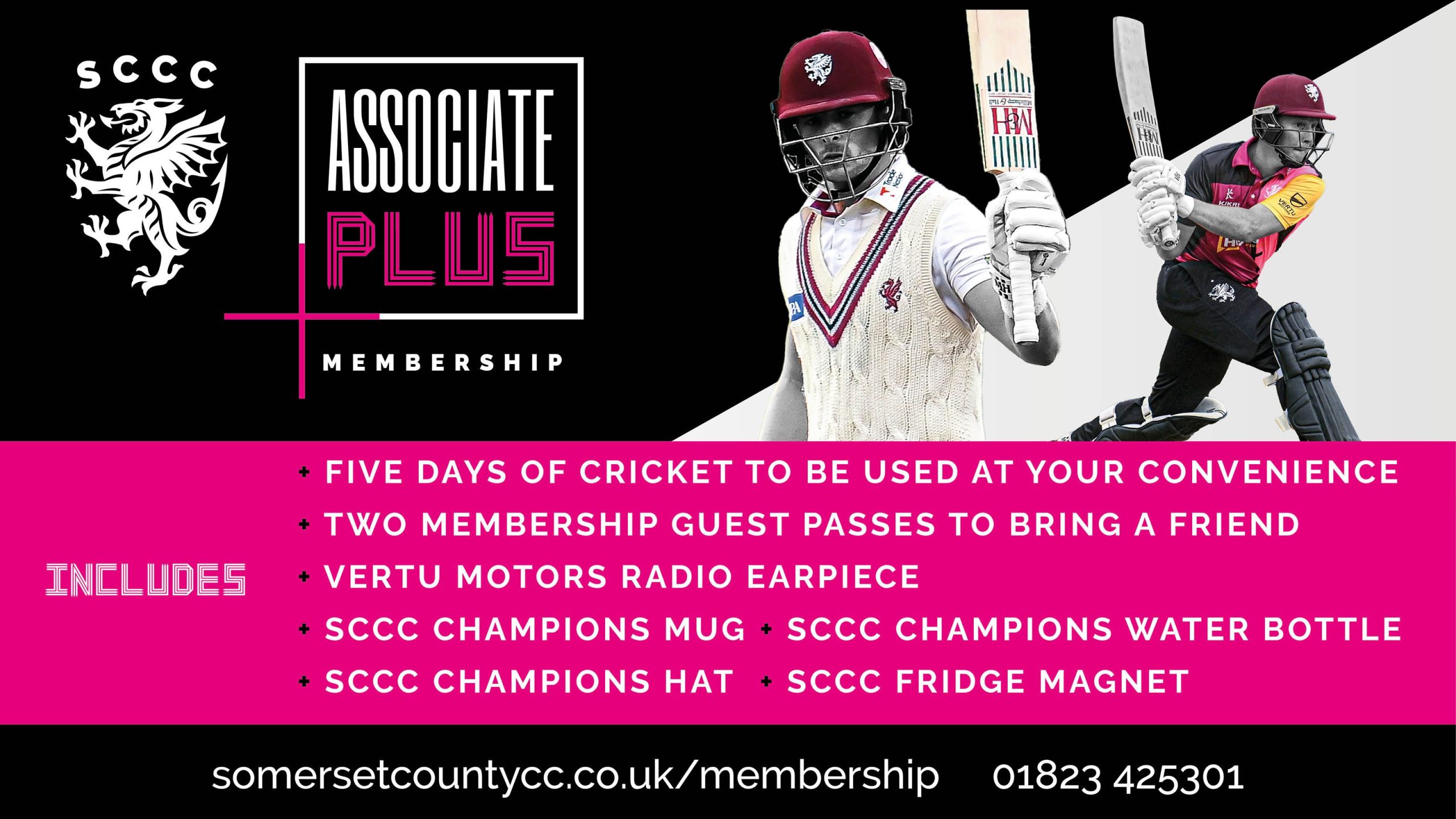 Your Associate Plus Membership comes in a Somerset CCC branded package and costs just £140.
If ordered before December 17th we can guarantee delivery in time for Christmas. This makes Associate Plus Membership the perfect gift for the cricket fan in your life!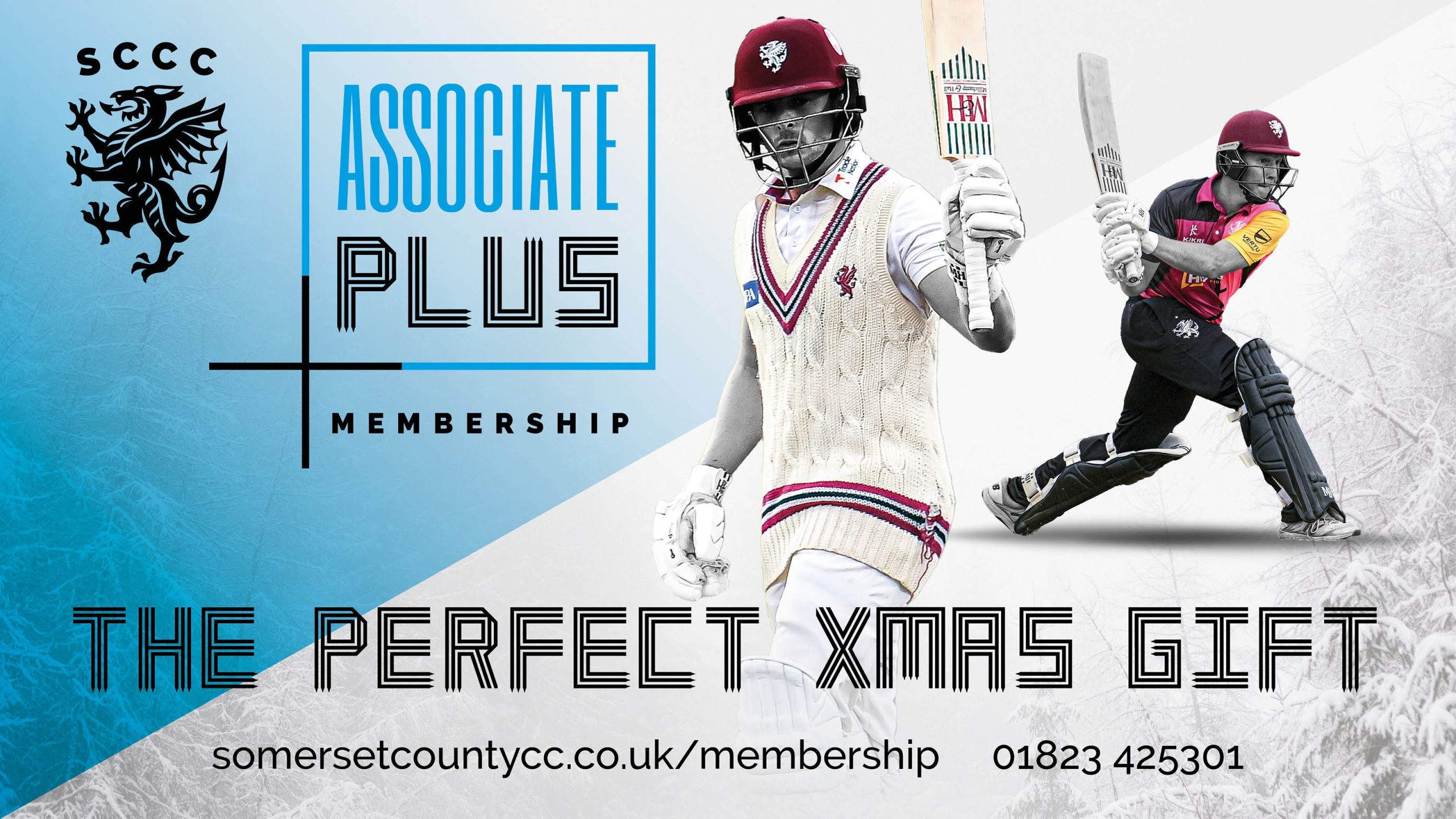 3- WOMEN'S ODI 2024 – HOSPITALITY AND TICKETS NOW ON SALE!
Tickets and Hospitality Packages for next summer's ODI between England Women and Pakistan are now on general sale!
HOSPITALITY
Enjoy international cricket in style at the Cooper Associates County Ground with one of our outstanding hospitality packages.
Hospitality is the perfect way to guarantee your place at this international fixture.
TICKET PRICES
Given the unprecedented demand for tickets to this year's International fixture, England v Pakistan in May will be an allocated seating match.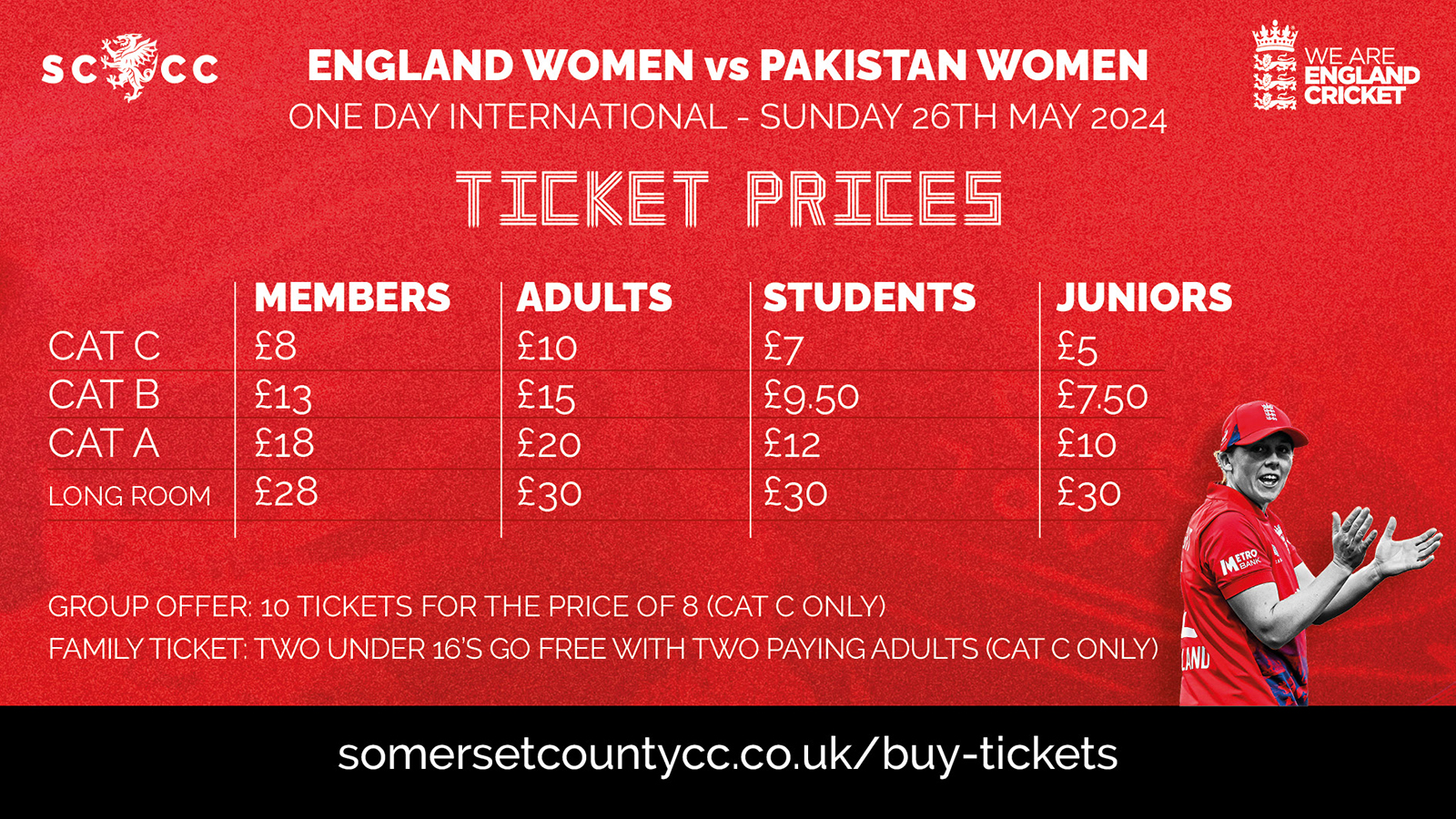 4 – MURDER MYSTERY DINNER SHOW
SHEER LUCK HOLMES AND THE CASE OF THE FLOATING FIANCÉE
Join us on March 8th, 2024, for a laugh out loud Murder Mystery Dinner Show.
Get ready for an excellent three-course dinner plus an exhilarating night of mystery and mayhem as you join Holmes, Watson and Mrs Hudson as they re-enact their latest mind-boggling case.
With hilarious characters, deadly twists, dastardly turns, and a three-course meal that's simply to DIE for!
Tickets cost just £60 so, dust off your magnifying glasses and prepare to super sleuth your way through a fully interactive murder mystery evening.
Doors open at 7pm.
This hilarious night out is brought to you by the team behind the wildly popular 'Faulty Towers Dining Experience'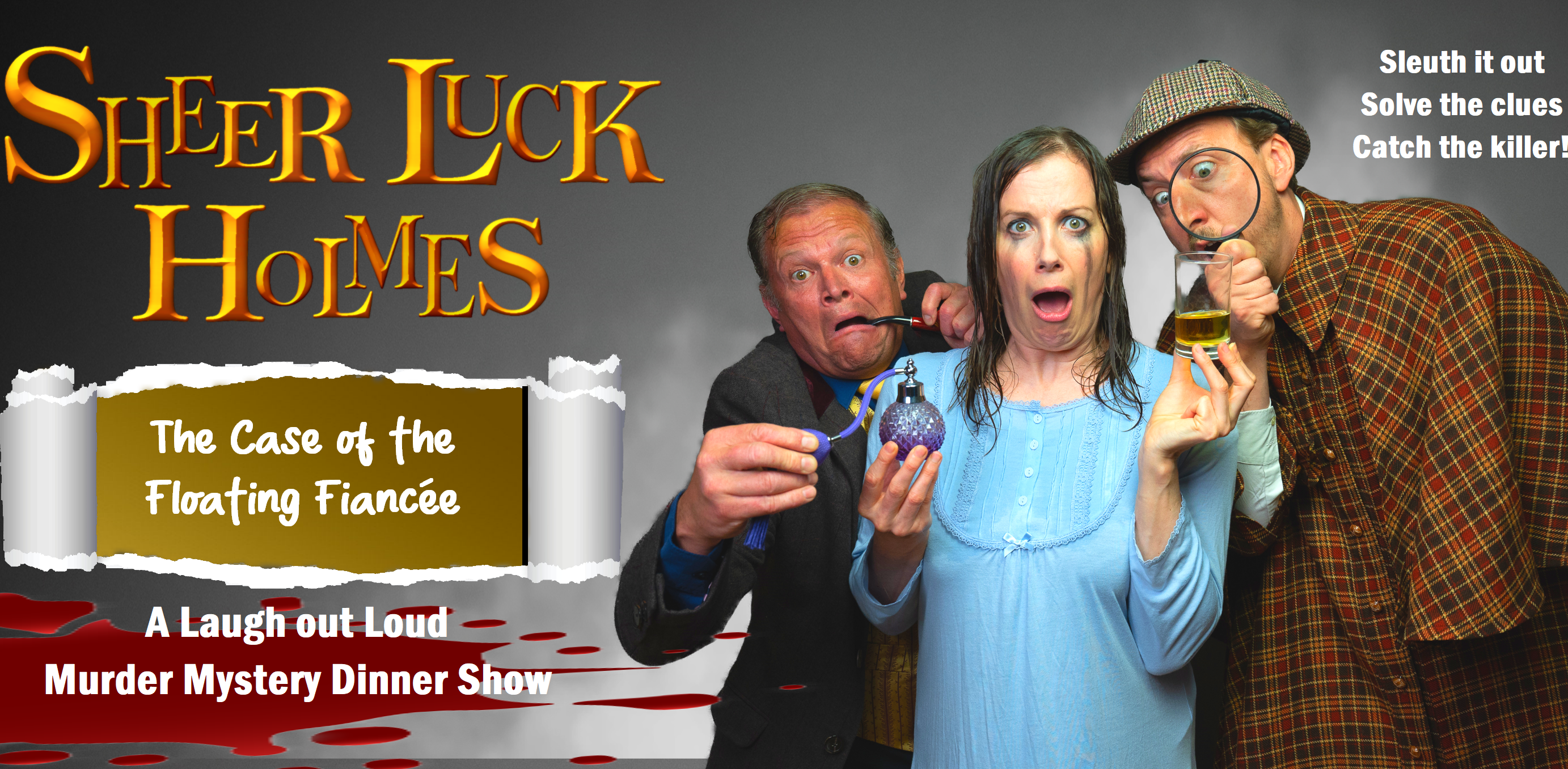 5 – LEGENDS WALL: FOREVER BE A PART OF SOMERSET'S HISTORY
Somerset County Cricket Club has a long and illustrious history, and now you can forever be a part of that.
As part of the buildup for our imminent 150th year celebrations, our Hall of Fame feature will soon be re-imagined and reinstalled in order to create a more befitting memorial to our greatest ever players who have built the foundations for our future glories.
The names of the first inductees will be announced shortly, and an important and exciting element of the new Legends Wall is that our Members and supporters can join these legends.
We are giving you the opportunity to have your name immortalised alongside the greatest players who have ever represented this famous Club by purchasing one of our limited-edition plaques.
By buying your plaque, you can become a part of both the history and the future of your Club.
More information will be announced soon, but to be a part of this important journey simply register your interest via the form below.
Early purchasers will be invited to a special exclusive launch event in 2024 to witness the unveiling of the new feature and meet some of the legends of the Club.
These fully personalised plaques will ensure that you secure your place alongside our greatest ever players. The plaques can be personalised with your unique messages or can celebrate births, marriages, anniversaries and loved ones, thus allowing you to forever be part of the iconic home of Somerset County Cricket Club.
Join us as we celebrate the history and the greatest players of the Club that you love and be a part of it forever.
The new Legends Wall will also enable the Club to update the feature more regularly thus keeping this important showcase of the game's greats up to date.
THE PERFECT GIFT
You will also be able to purchase a high-quality replica of your personalised plaque so that you can keep a part of Somerset County Cricket Club close to your heart forever.
What better gift for the Somerset supporter in your life, than a little piece of the Club's history and future?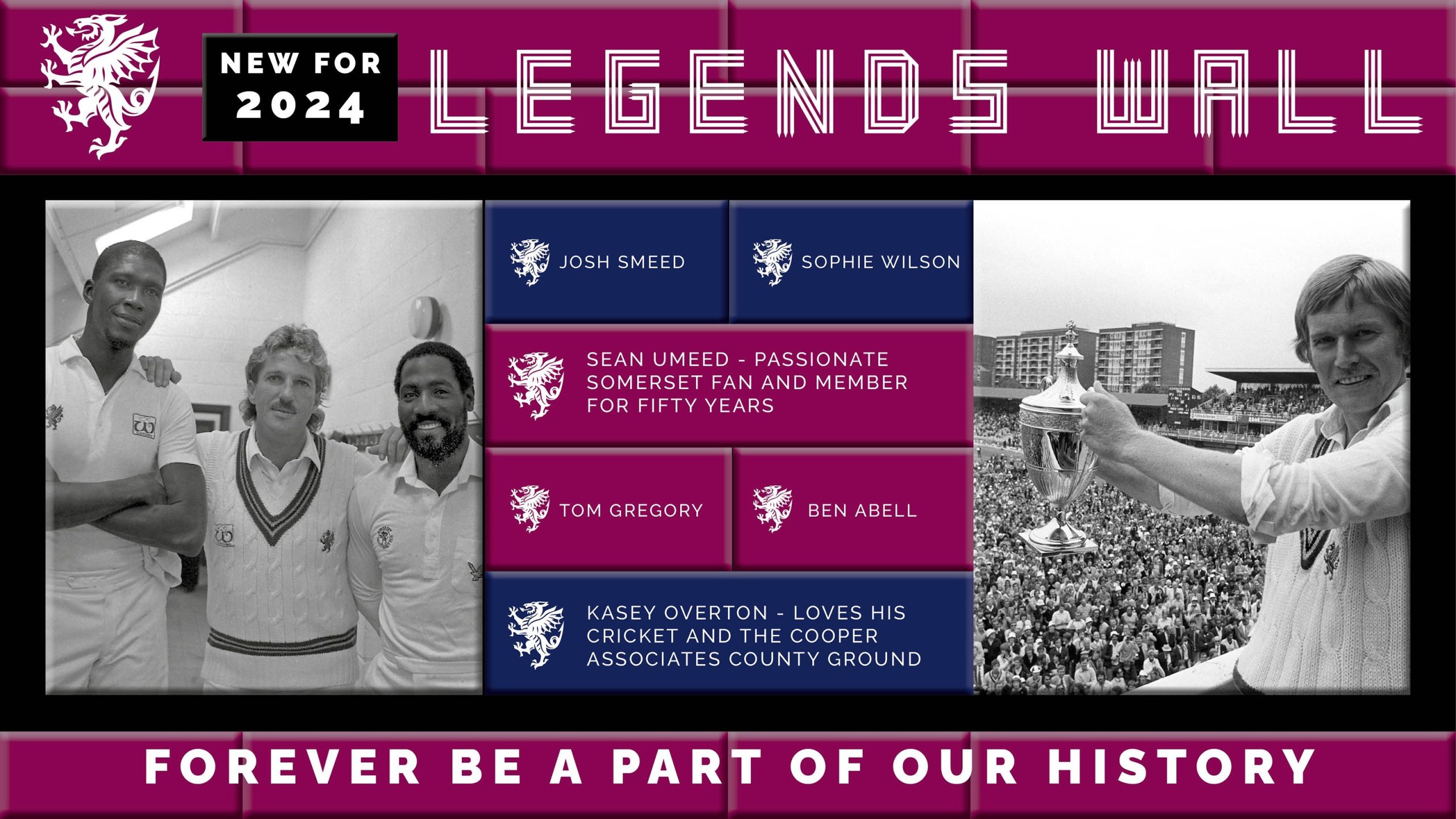 6 – BLAST OFF WITH MATCHDAY HOSPITALITY!
Somerset and Western Storm are set to begin the summer with a bang when Vitality Blast Off returns bigger and better.
Somerset begin the defence of our T20 crown at the Cooper Associates County Ground on Friday May 31st with a rematch against last year's beaten finalists Essex, whilst Western Storm face Sunrisers on the same day!
Hospitality packages for this double header are now available.
Register your interest in tickets to see the double header now.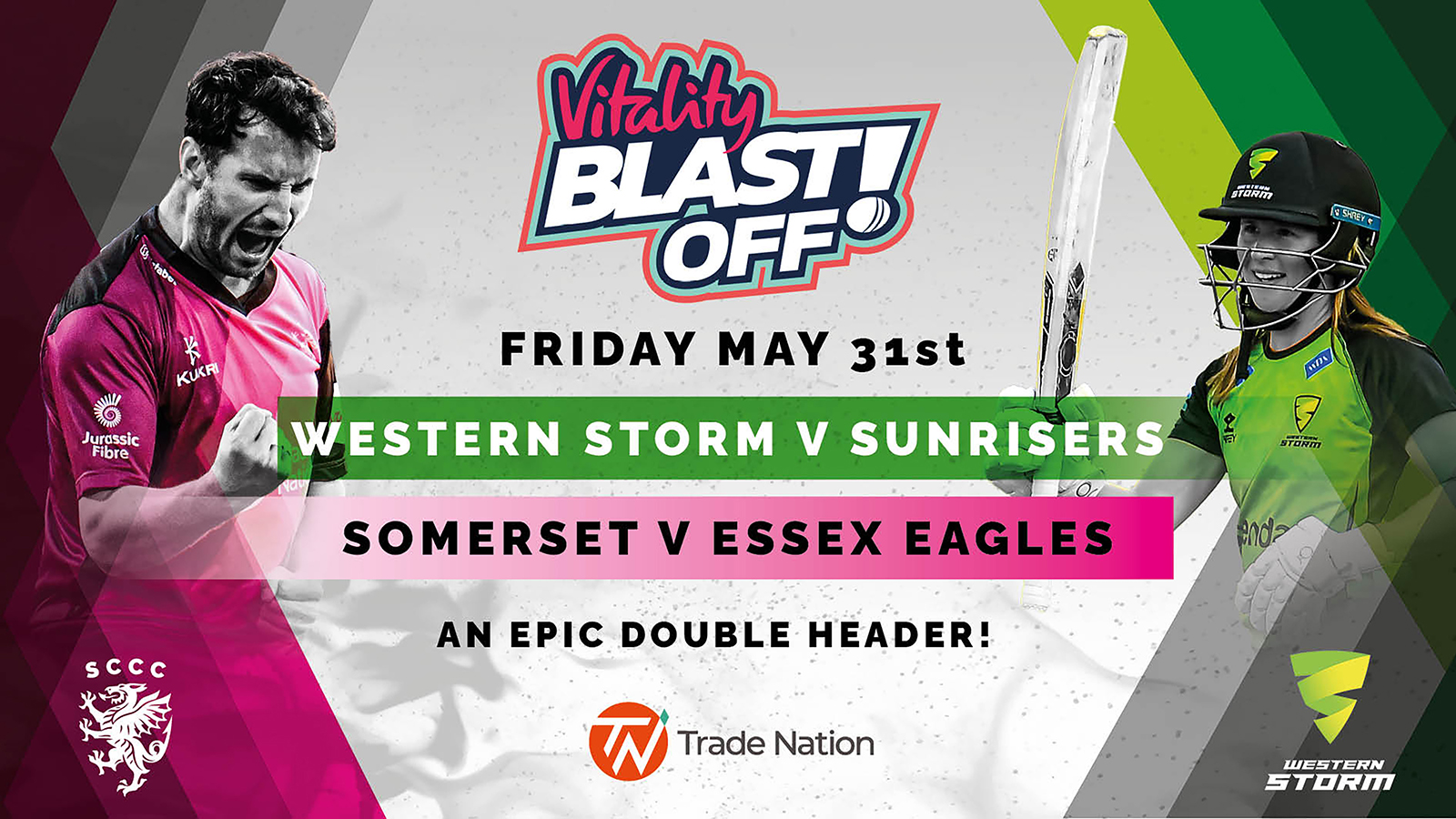 7 – VERTU MOTORS IN-EAR RADIO: THE PERFECT STOCKING FILLER
Take advantage of our Black Friday offer by picking up your Vertu Motors in-ear radio for just £7!
Somerset County Cricket Club further improved our matchday experience for Members and supporters in 2023 by introducing the Vertu Motors in-ear radios.
These gave visitors to the Cooper Associates County Ground the opportunity to listen to our award-winning ball-by-ball live stream commentary from their seats in the stands and pavilions.
The commentary is perfectly synced to compliment the on-field action, giving our Members and supporters an immersive and comprehensive live matchday experience. The radios last all season, with only a small battery needing to be replaced on occasion.
Please note these radios are collection only, to be picked up at the Cooper Associates County Ground Andy Caddick Reception during office hours (Monday-Friday 9am until 5pm).
*Offer ends Wednesday 29th November. Collection available until 15th December.