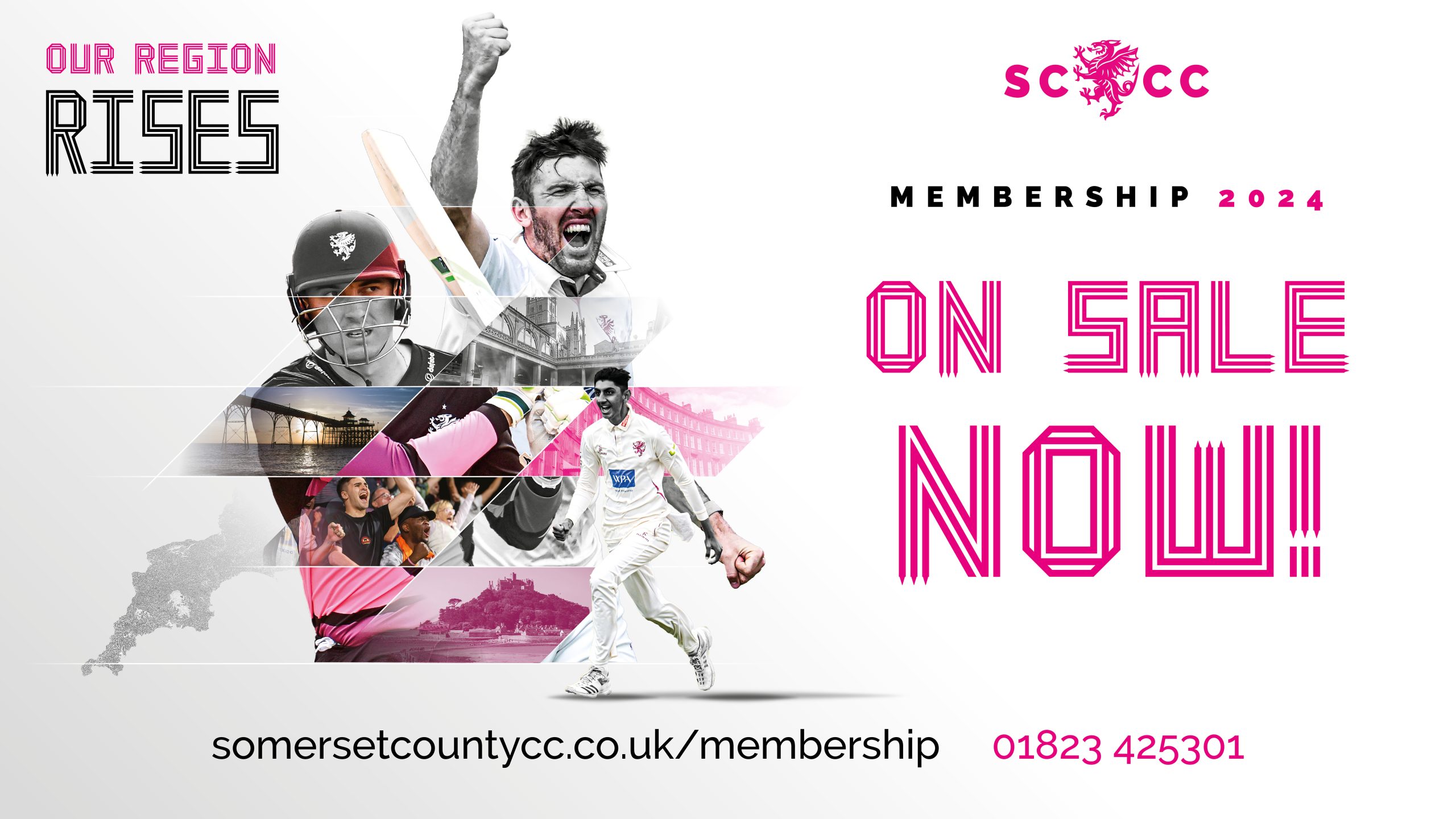 2024 Membership NOW ON SALE!
Membership of Somerset County Cricket Club for the 2024 season is now on sale.
2023 was another sensational year for Somerset CCC with the undoubted highlight being the dramatic and memorable Vitality Blast success at Edgbaston.
Next summer will see the Club defend our T20 crown whilst also striving for success in the LV= Insurance County Championship and the Metro Bank One Day Cup.
Existing Members, in order to purchase at the special early-bird renewal price, simply head to your online account and click "Advantages". If T20 cricket is included in your 2023 Membership, the allocated seat has been held in this section of the website (Until seat renewal deadline of December 4th).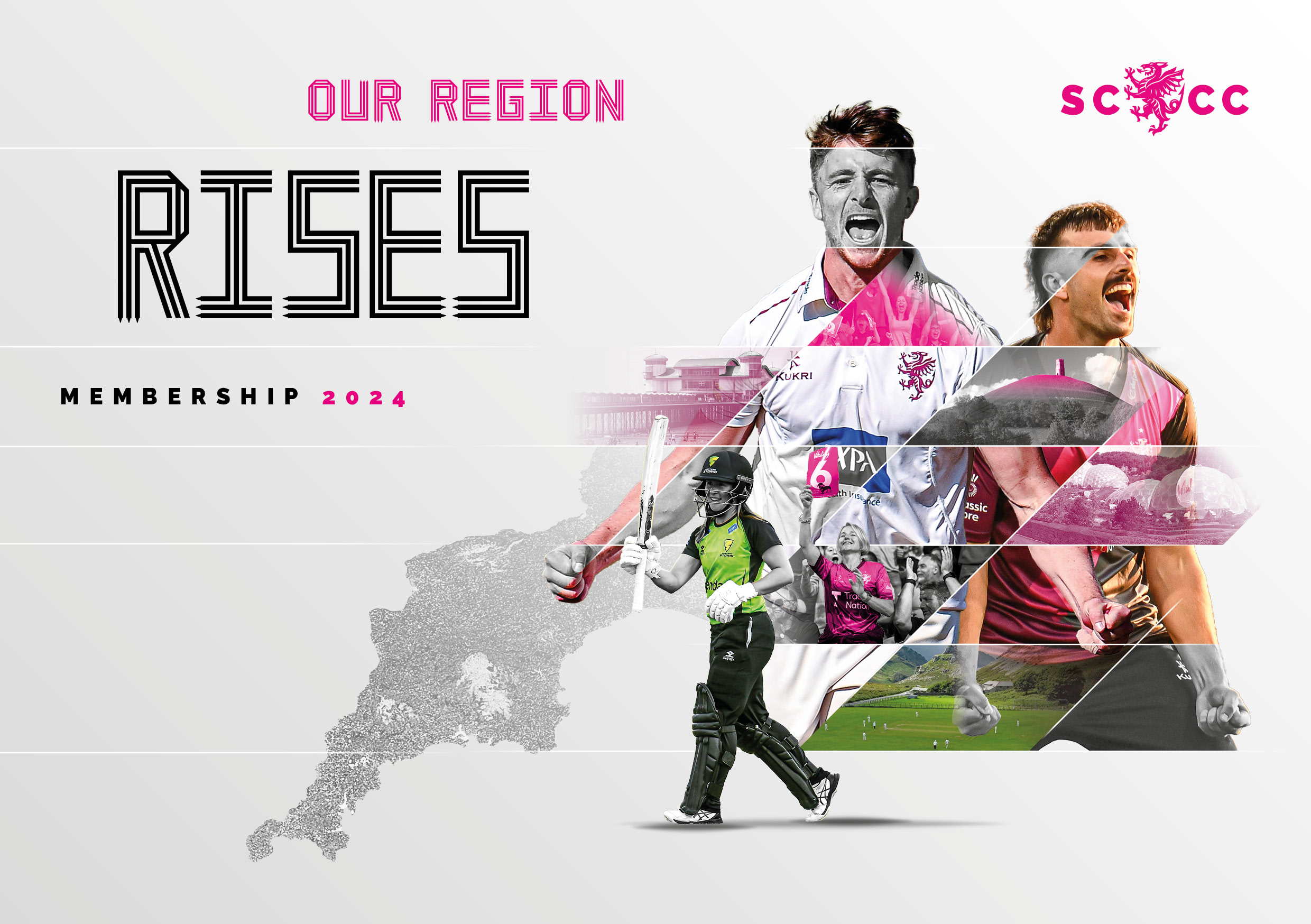 We want you to join us for what promises to be yet another incredible summer.
See everything that Somerset County Cricket Club has to offer and have a look at what's new for 2024!
Our Region Rises 
One region united and galvanised by success
One region built upon the foundation of its glorious history
One Club as the focal point for six million voices
Join us as our region rises for the 2024 campaign!
Membership is available to purchase online and you can also renew or purchase in person if you are attending our LV= Insurance County Championship match against Kent which begins today.
Staff from our Commercial Team will be available to answer questions, sell Membership and outline all of the 2024 benefits in the 1875 Club from 10am to 11am and in the Long Room from 11am to 12pm on each day of the Kent fixture.
Staff will also be available at Reception of the Marcus Trescothick Pavilion in the St James Street car park throughout the match.
Membership will be available over the phone and in person from reception from Tuesday September 26th.
If you pay by Direct Debit, you don't need to do anything. Your Membership will automatically renew at the 2024 price. If you pay by Direct Debit and wish to make any alterations to your Membership please email us before 5pm on October 2nd.
membership@somersetcountycc.co.uk
Try before you buy!
Have you ever wondered what it would be like to be a Member of Somerset County Cricket Club?
Well, now you can find out!
On any day of this week's LV= Insurance County Championship match against Kent we are trialing a special offer.
For just £18 you will receive a special ticket which will provide you with Member benefits for the day.
You will receive:
Access to our Member Stands and Member Bar
A 10% discount at SCCC food and drink concessions
A digital scorecard which will be emailed prior to the day
To experience a matchday as a Somerset County Cricket Club Member, take advantage of this special offer now!
Already a Member? Tell your friends about this offer and they could join you in the Members areas for this fixture.
In addition to this, any adult non-Member that signs up to this offer and then goes on to take out full 2024 Membership* during this match will have the £18 discounted from their Membership purchase.
*2024 Associate Membership and Somerset Nation Membership does not qualify for this offer.