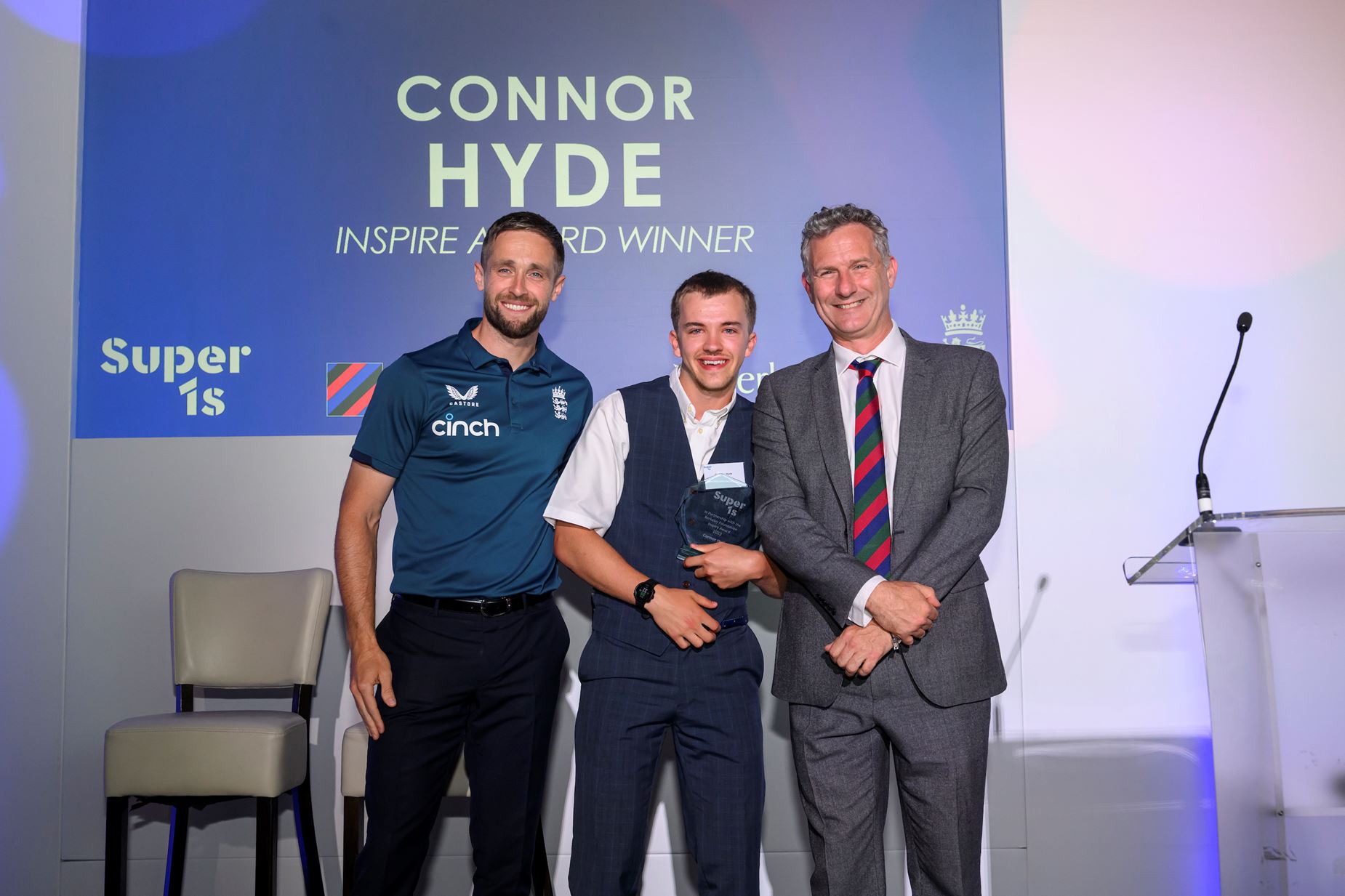 National Award for Connor
The KIA Oval played host to a very special awards ceremony recently and there was a local winner!
The event saw two young people recognised for their personal development and contribution to Super 1s cricket and they were both presented with an Inspire Award by England all-rounder Chris Woakes and comic Adam Hills.
One of the winners was Connor Hyde.
Connor was nominated by Somerset Cricket Foundation for his outstanding work as a Super 1.
Connor attends the Yeovil hub of the Somerset Super 1s project, where he supports the coaches in the delivery of warm-ups and occasionally helps run the session too. He has also been successful in passing his Foundation One coaching course.
In addition to his work with Super 1s, Connor supports Hilton Cricket Club and Yeovil Cricket Club in the running of their national programs as well as supporting Ilton CC with their junior section. He also supports Somerset Cricket Foundation's walking cricket program which meets every Tuesday in Yeovil.
Connor is a key member of Somerset's Vitality Blast activation team and attends other Somerset Cricket Foundation events as a volunteer.
Connor thought he was going to The Oval to watch a cricket match and was overwhelmed when comedian Adam Hills announced him as a recipient of the Inspire Award as he explained. "I didn't even think I was going to get the award," he explained. "I thought I was coming to watch a cricket match. Mum just said to make sure I bring my suit!
"I think cricket has saved my life. I wasn't as social with people because I was a bit scared that people would think I shouldn't be involved in a cricket match, and I proved a lot of people wrong. Lord's Taverners are doing an amazing job. I really respect them and what they do for young people, and they've helped me so much as well.
"If I didn't have cricket, I don't think I would be as happy, and I can't say thank you enough. It's really motivating. Sometimes I think of coaching and training as not actual work because I really enjoy what I'm doing, I just care about other people enjoying it.
"At the moment one of my goals is to pass my level two cricket course. That means I can go into one-to-one coaching with people. Hopefully, I'll become a level two and in a couple of years I might do level three and come back here as a manager.
"Don't let anyone say you can't do something. I don't believe in that at all. I show people that I can do stuff."
Steve Gass, Somerset Cricket Foundation's Community Programmes Manager, added: "Connor is truly inspirational. He shows anyone that anything can be possible if you're willing to put yourself out there and make things happen."
For more information on Super 1s in Somerset, please see the link below: